Once a year, Swiss Life asks people in Switzerland how self-determined they feel. Following a positive development in the previous year, self-determination decreased again in 2022. This development is mainly driven by financial and geopolitical uncertainty. Fewer than a third of respondents still look to the future with unconditional optimism, and the assessment of the financial situation at retirement remains sceptical on the whole.
Decreasing self-determination in times of economic uncertainty
While last year 63% claimed to lead a self-determined life, it is just 60% in 2022. The main reason cited is the ongoing uncertainty in connection with the Covid-19 pandemic and the war in Ukraine, coupled with supply bottlenecks and higher commodity and energy prices and, not least, higher inflation.
Independence and financial security are fundamental to self-determination
Being able to decide for themselves, remain independent and have enough money remain the most important prerequisites among the Swiss for a self-determined life. As in the previous year, respondents cited fear of a serious illness as the biggest threat to their self-determination.
Families with children in particular feel less financially self-determined
Overall, 45% of respondents claim to feel financially self-determined. That is six percentage points down on the previous year (2021: 51%). Financial self-determination has fallen most among families with children: only 37% of families with children surveyed still feel financially self-determined (2021: 44%).
Optimism and financial confidence remain low
Only 29% of respondents are unconditionally optimistic about the future, compared with 43% two years ago. Financial confidence decreases most among working people aged 50 to 64, the further they look into the future: 55% today, 49% in ten years and 47% at retirement.
Young people have little faith in retirement provisions – while at the same time assuming less responsibility
Only 26% of 18 to 29-year-olds trust their pension provision will enable them to lead a self-determined life in old age (2021: 31%). At the same time, only 35% feel responsible for the success or failure of their pension provision – which is again 4% down on the previous year (2021: 39%).
Women are less financially confident than men
55% of women surveyed in Switzerland fear their financial situation will have a negative impact on their self-determination. Among the men surveyed, "only" 46% share this concern. Compared to the previous year, however, the difference between the sexes has narrowed: in 2021, it was 57% of women and 42% of men.
The difference between city and countryside has reduced
While 62% of Swiss surveyed in rural areas claim to lead a self-determined life, the figure is 60% in the city. This brings the perceived self-determination of the rural population closer to that of the urban population: in 2021, the difference was 9%, compared to just 2% in 2022.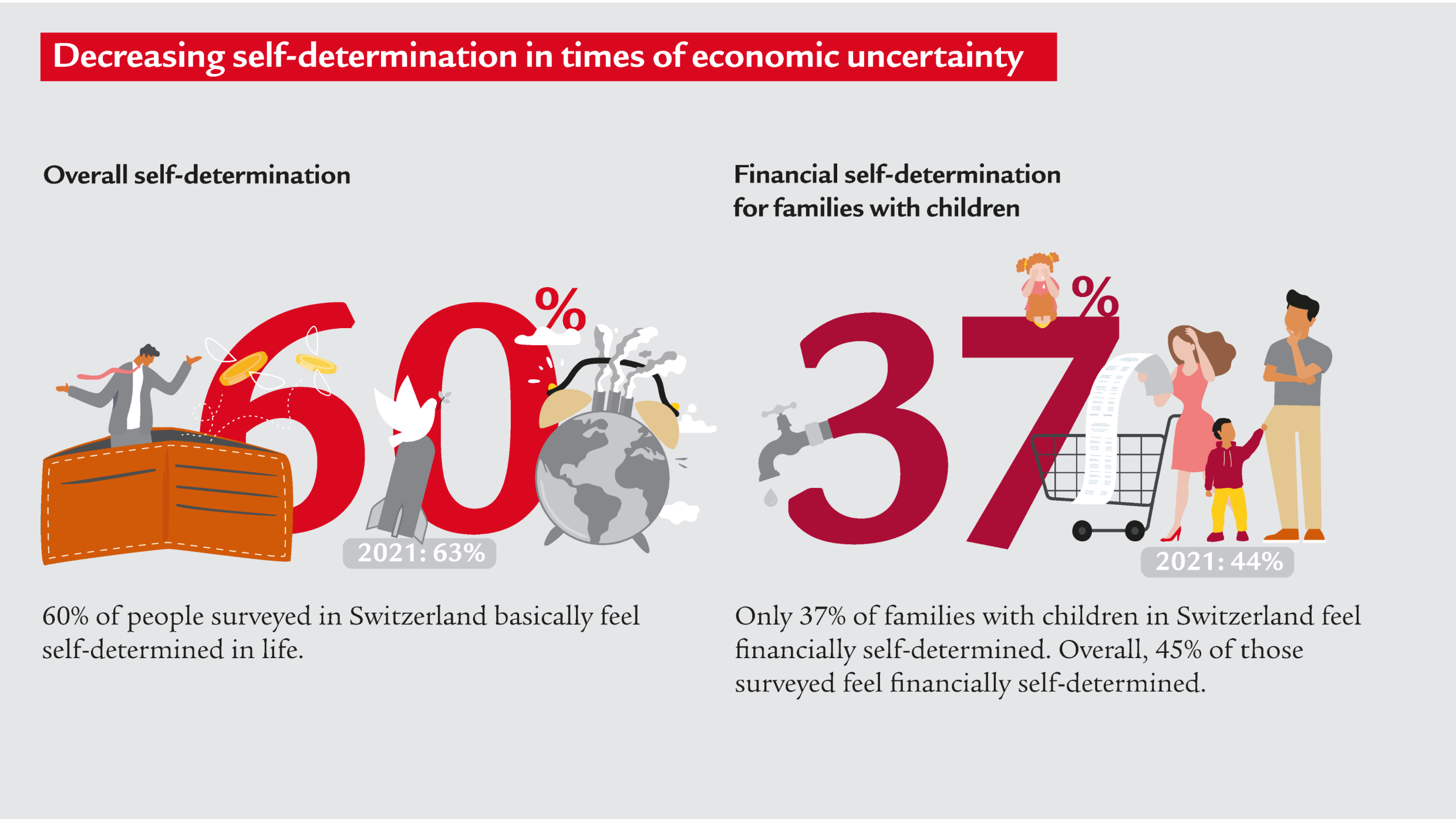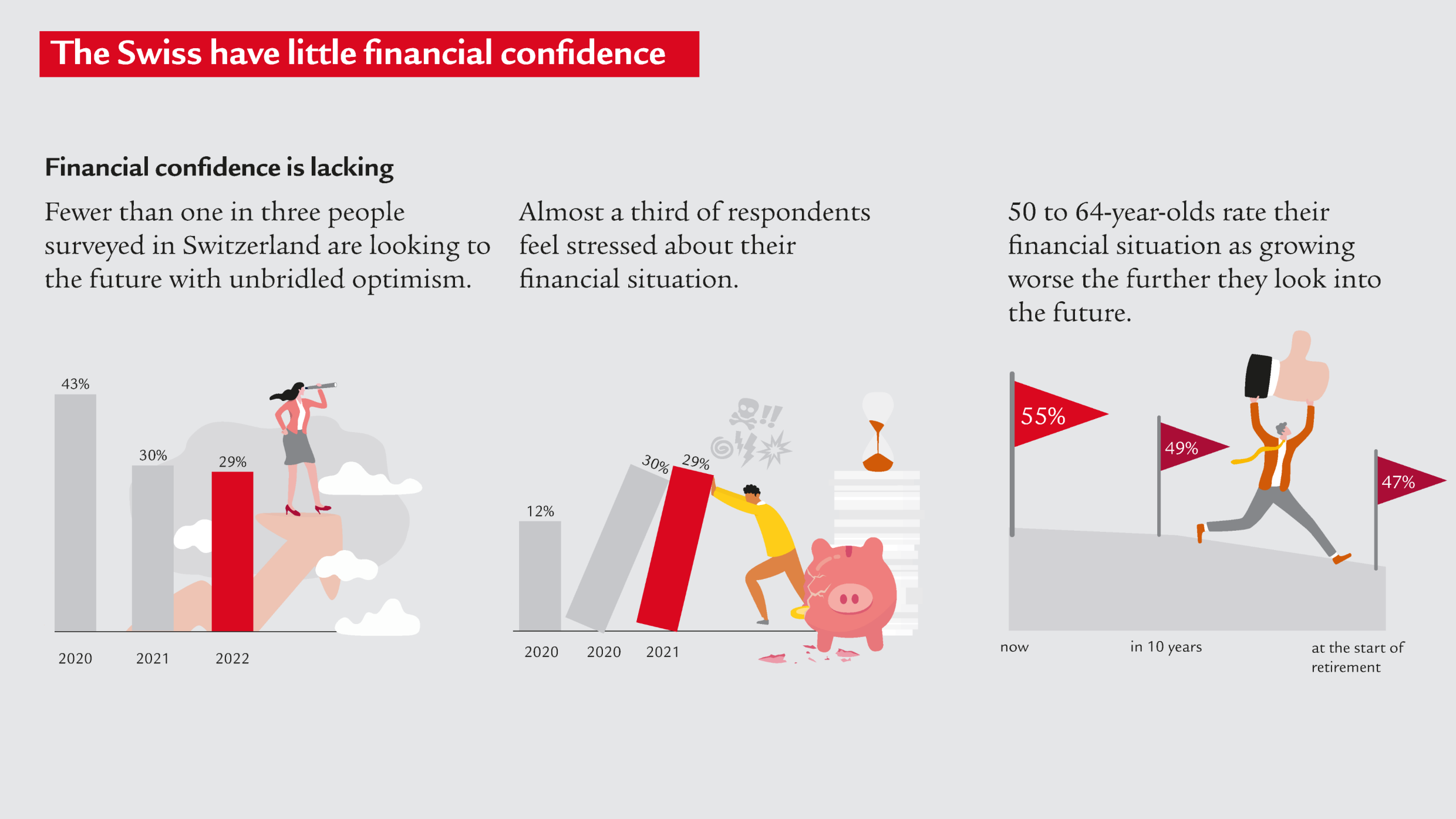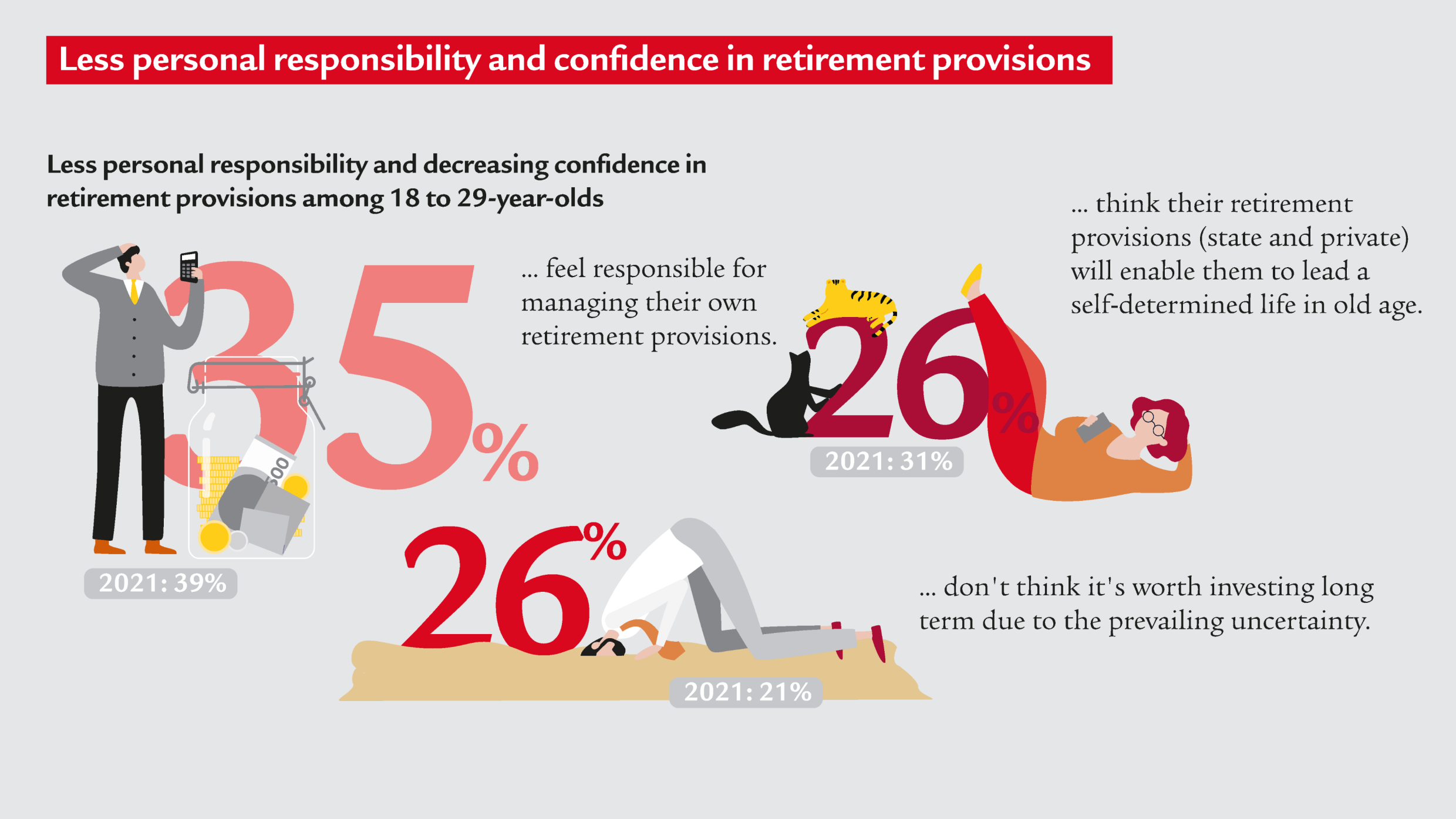 Further contributions and studies by Swiss Life on the self-determined life
"The self-determined life" is the purpose of Swiss Life. Swiss Life regularly presents interviews with experts, inspiring articles and representative surveys on that topic. All contributions and studies can be found on our Content Hub.

Swiss Life self-determination barometer
Swiss Life enables people to lead a self-determined life. In this context the company launched the Swiss Life self-determination barometer in 2019. This addresses the question of how self-determined people feel, what factors are involved and how they expect their degree of self-determination to develop in the future. Swiss Life and market research company Bilendi surveyed about 1000 people between the ages of 18 and 79 in Switzerland online from 28 June to 8 July 2022 for the 2022 self-determination barometer. Besides Switzerland, representative surveys for the Swiss Life self-determination barometer are also conducted in France, Germany and Austria.