How is the issue of "women and retirement provisions" discussed on Twitter, Facebook etc.? A data analysis conducted by Swiss Life in Switzerland, Germany and France provides some answers and background.
The fact that pensions for women in Europe are massively lower than for men on average has become a more pressing issue in the public debate leading to the first countermeasures in politics and business. What is social media's take on women and retirement provisions? Who discusses it on Twitter, Facebook etc. and what do they say? How does coverage of the topic differ between Switzerland, Germany and France?
A social media evaluation commissioned by Swiss Life and conducted by the agency Kuble provides some insights into the debate. The data was gathered from 18 October to 15 December 2017 via the monitoring tool Brandwatch and covered Twitter, Facebook, Instagram, news portals, blogs and forums. The analysis covered a total of 21,535 mentions. "Social media is part of many people's daily routine. That is why digital channels are a reliable means of analysing opinions on such topics as the gender pension gap", says Christoph Hess of Kuble about the data. The key findings are as follows:

1. Where the topic is most discussed

(Coverage by country)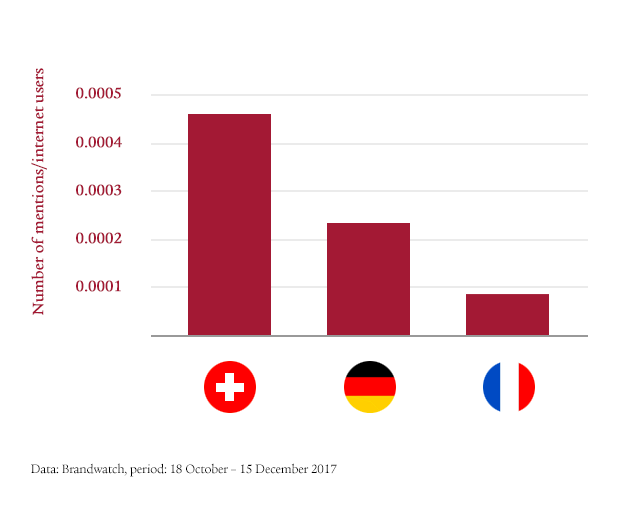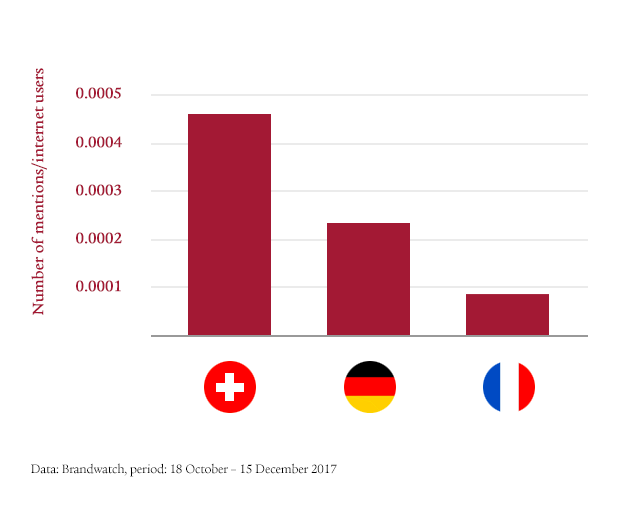 The subject of women and retirement provisions is discussed a lot more in Switzerland than in the neighbouring countries of France and Germany. The number of mentions relative to the number of internet users was displayed, as it is a better way of comparing the countries (mentions in news articles, tweets and other online content).
The significantly stronger interest in Switzerland relative to France and Germany could be related to the public analysis and discussion on the referendum results on pension reform at the end of September 2017.
2. Very different national perspectives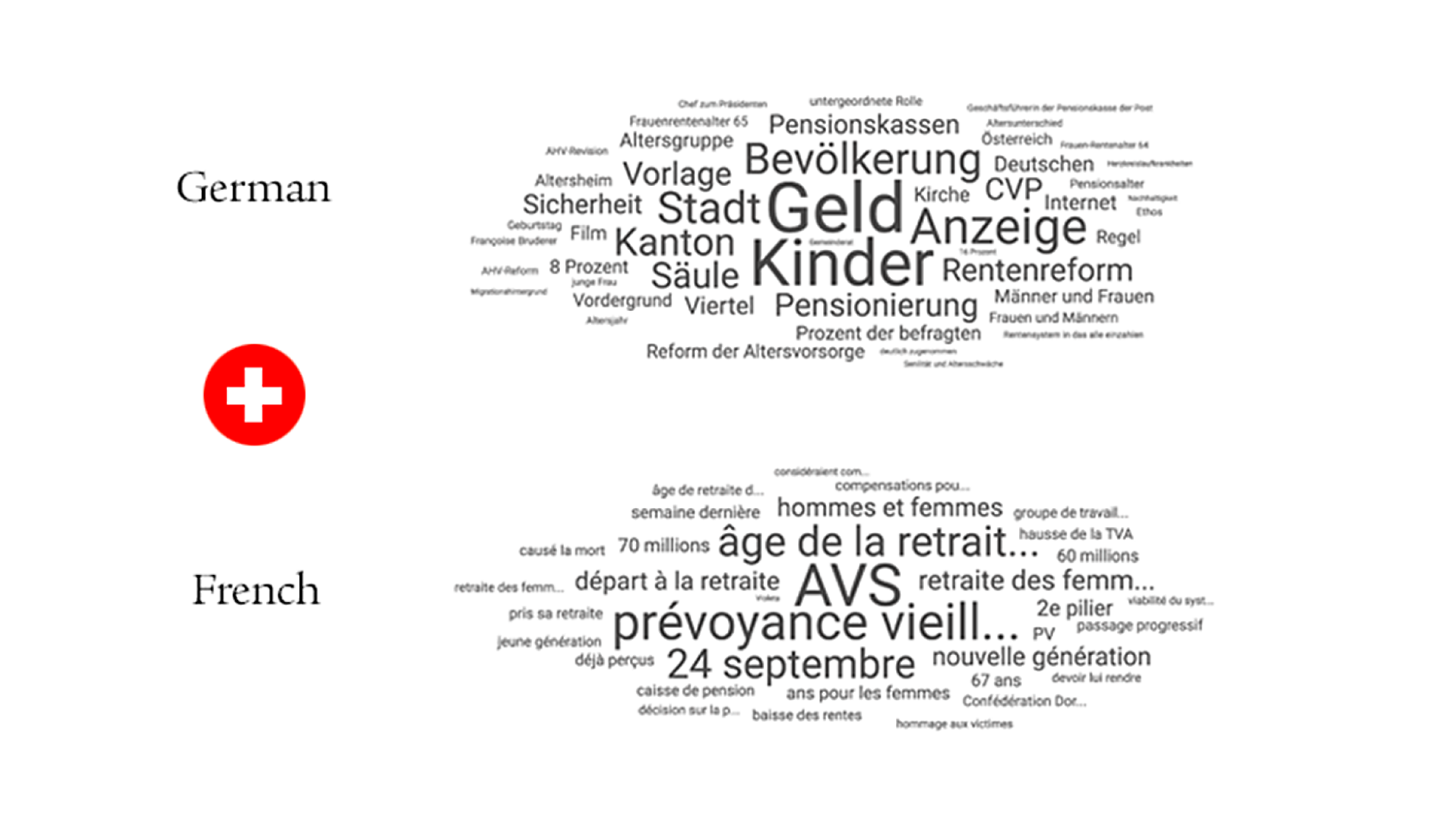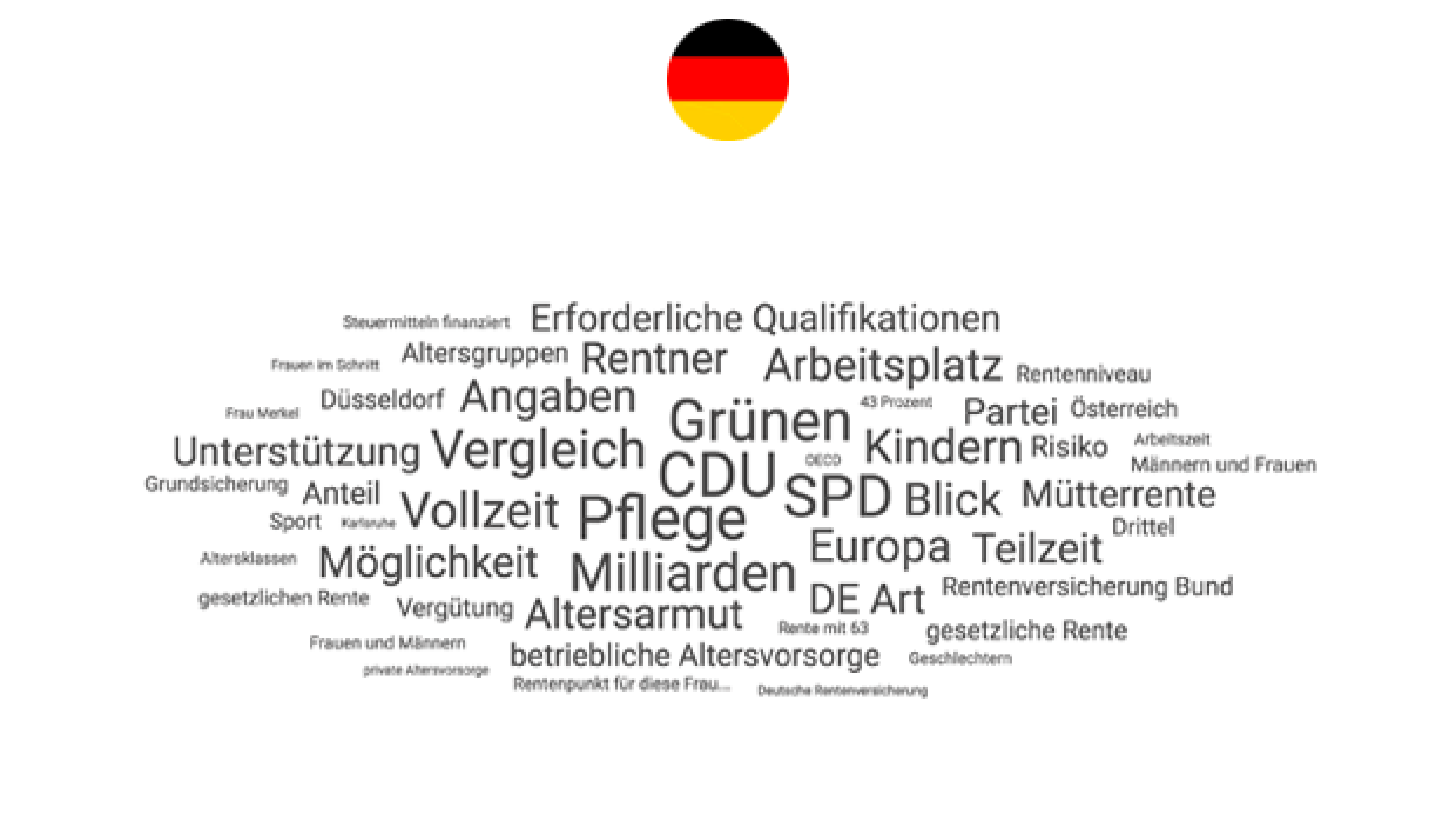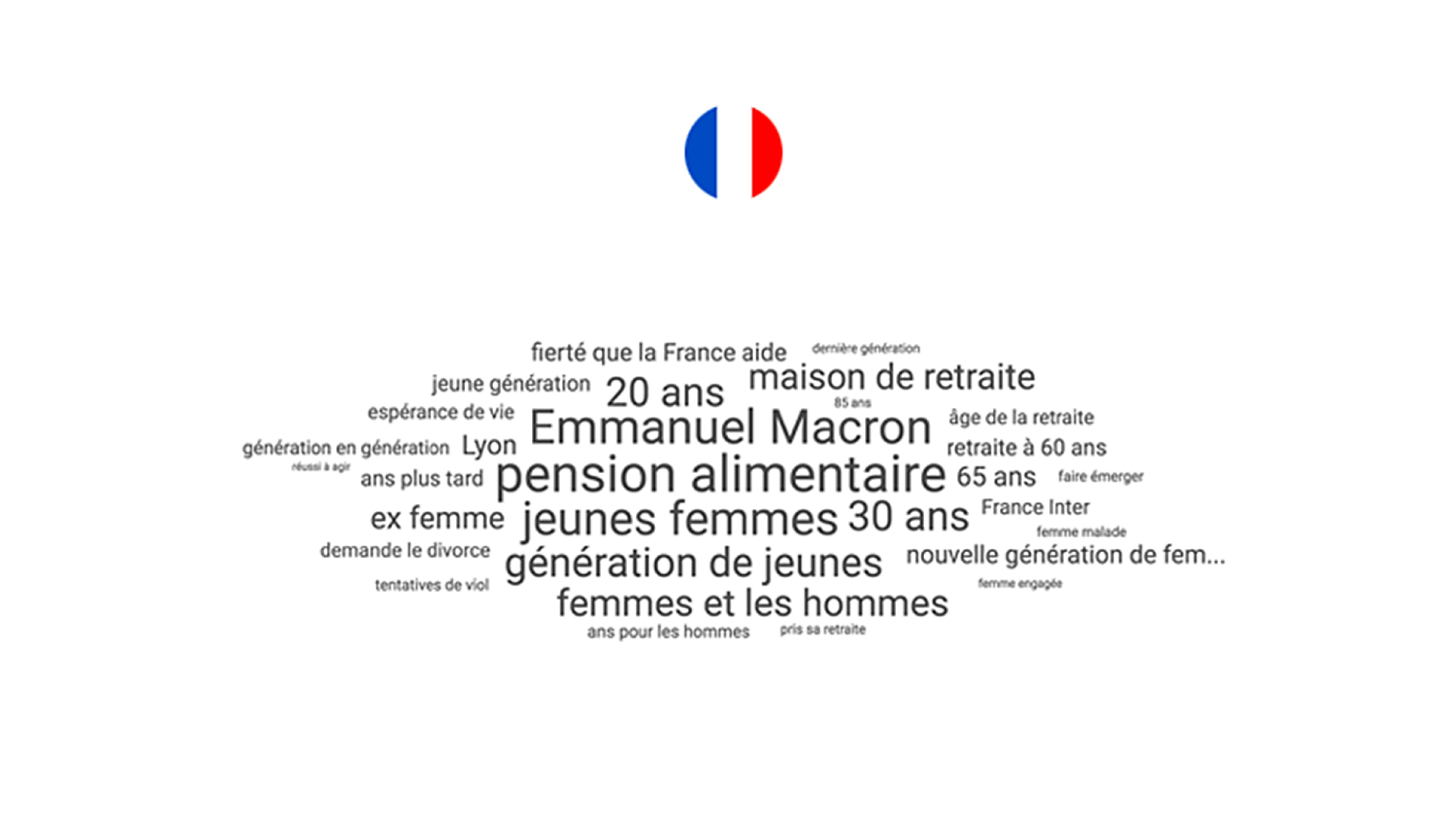 The Word Clouds show the context in which the subject was raised. There are big differences between the countries.
In Switzerland - especially the French-speaking part - the pension reform is often referred to. In German-speaking Switzerland, retirement provisions also often come up mainly in connection with the words "money" and "children". That indicates a growing awareness of retirement provisions for women when starting a family.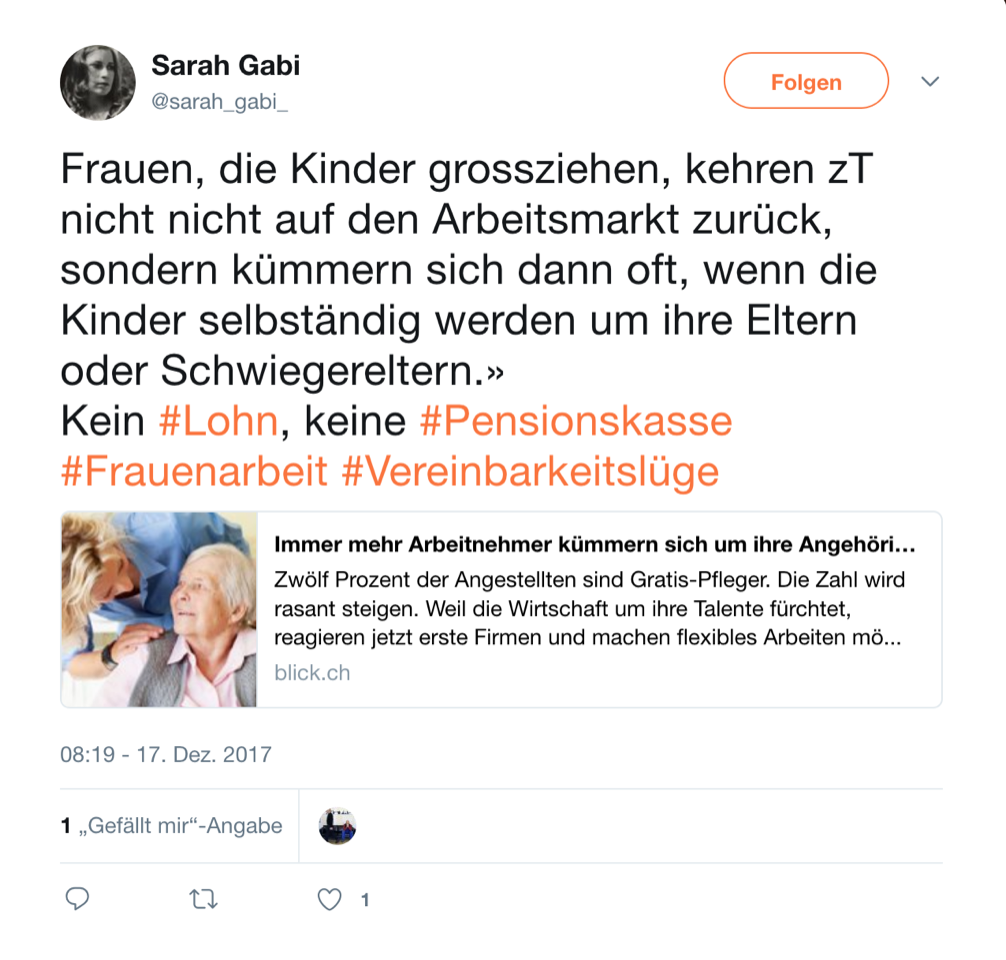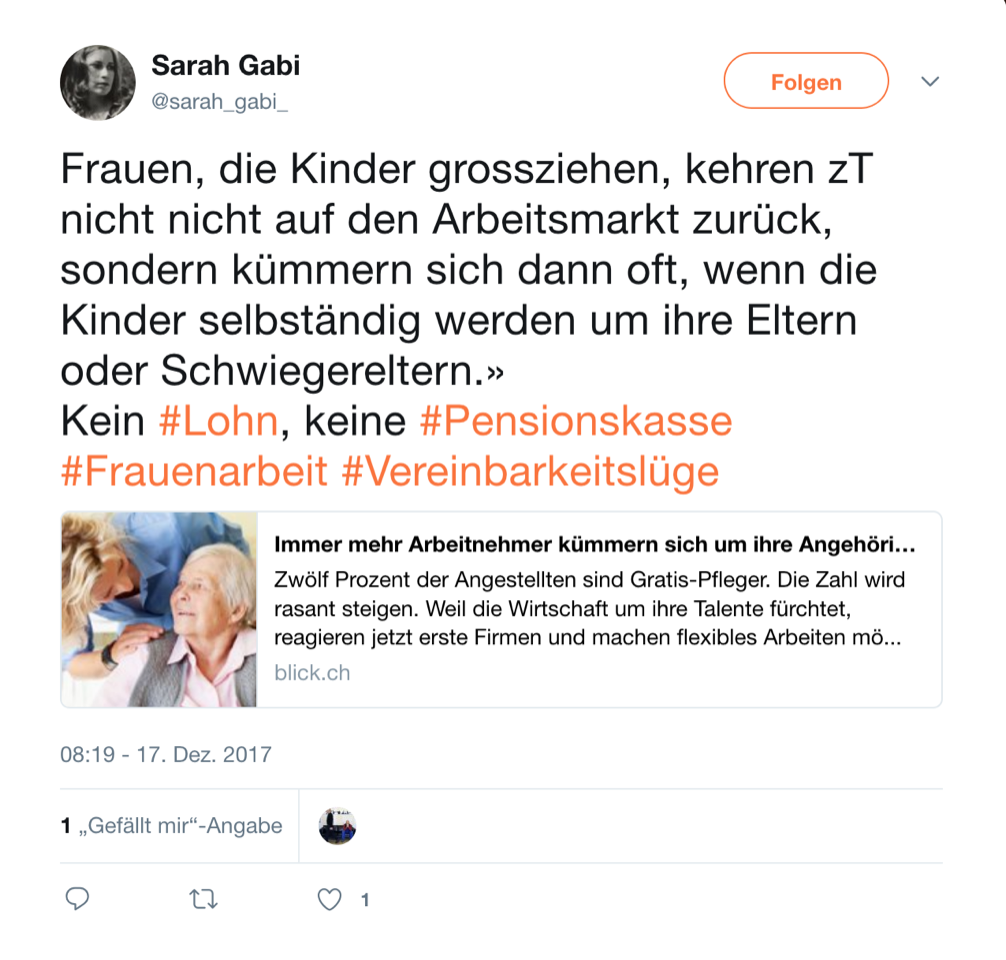 Translation of Tweet: "Women raising children sometimes don't go back to work and look after their parents or parents-in-law instead, once the children become independent."No #salary, no #pension fund #female labour #myth of compatibility
In Germany, retirement provisions for women featured in the coalition discussions during the period under review, so it was often mentioned in conjunction with the political parties. The level of employment (full-time/part-time) was frequently touched on as it has a big impact on the pension pot and is one of the main challenges facing working mothers.
Young women often weigh in on the debate in France. That could be because of "Femmes en Marche avec Macron", a support group for Emmanuel Macron, which is involved with the issue and evidently mobilises many young women.

3. Men talk about the subject more often than women

(Coverage of the topic by gender and country, source: only Twitter)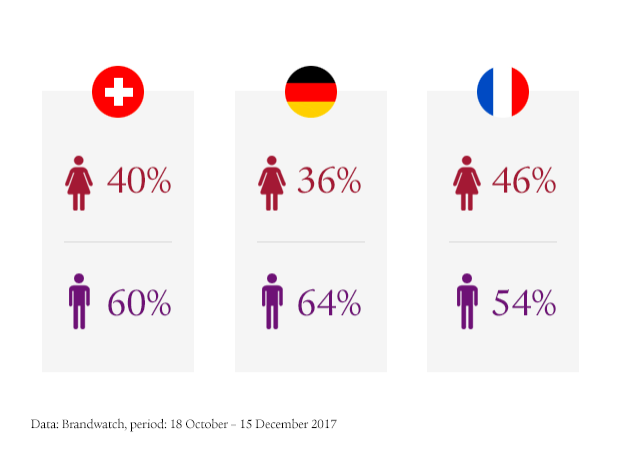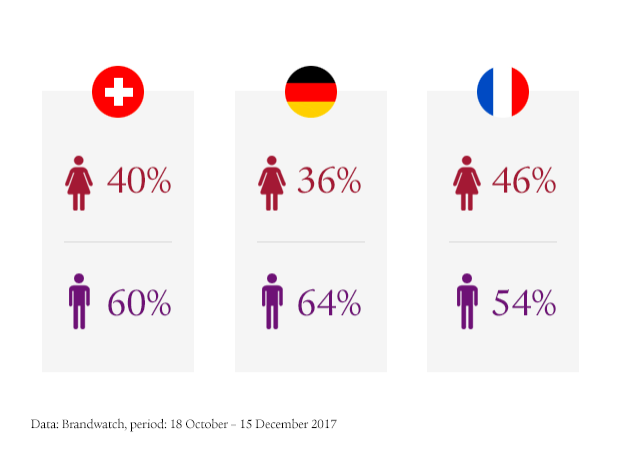 Surveys and studies have revealed that women tend to be less interested in pension provision in general. Twitter backs this up. Men broach the subject more than women in all three countries. This is particularly the case in Germany, and less so in Switzerland. The difference is smallest in France as men and women show almost similar interest in the topic (F: 46%, M: 54%).

4. Poverty in old age concerns women in Germany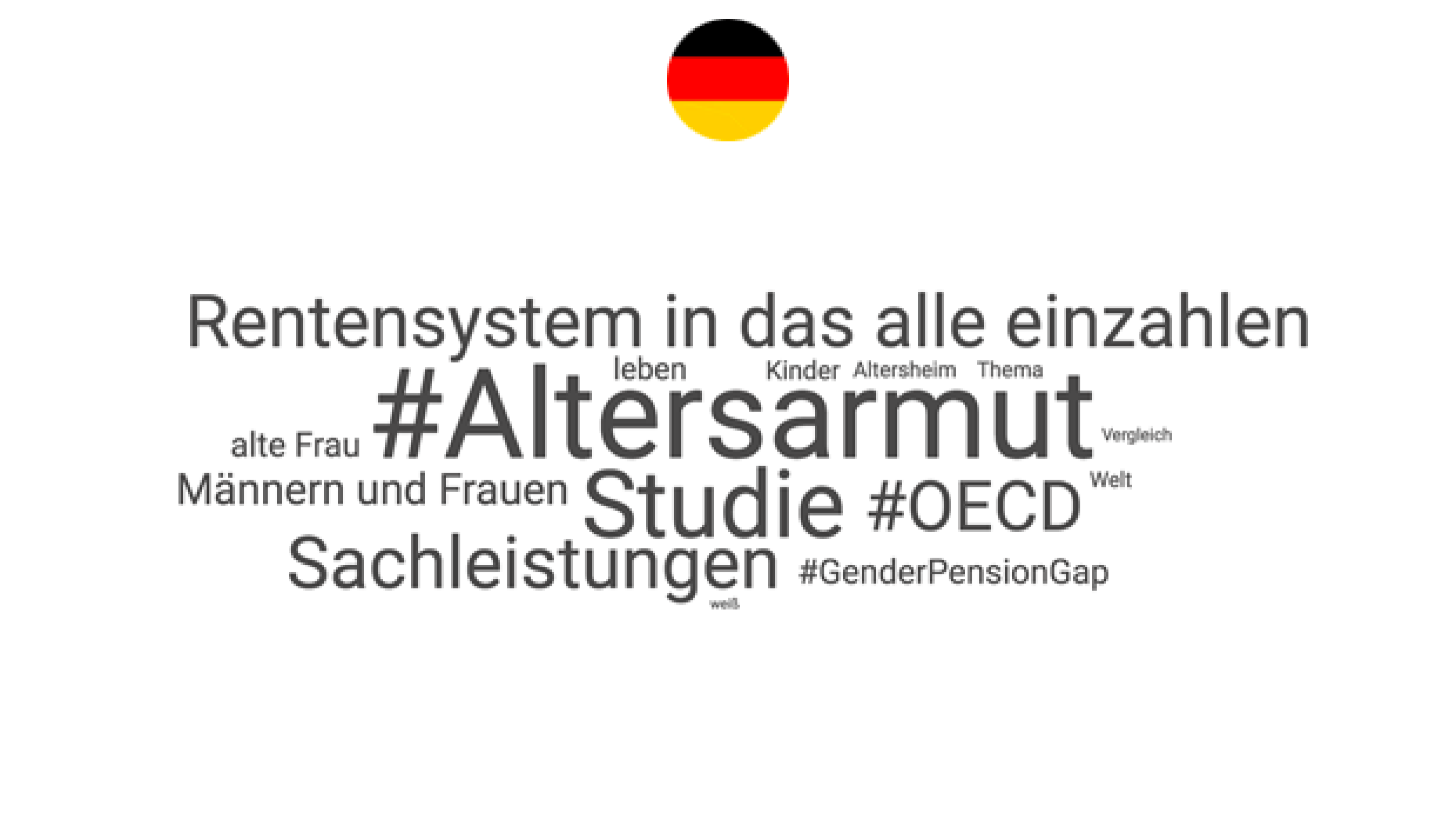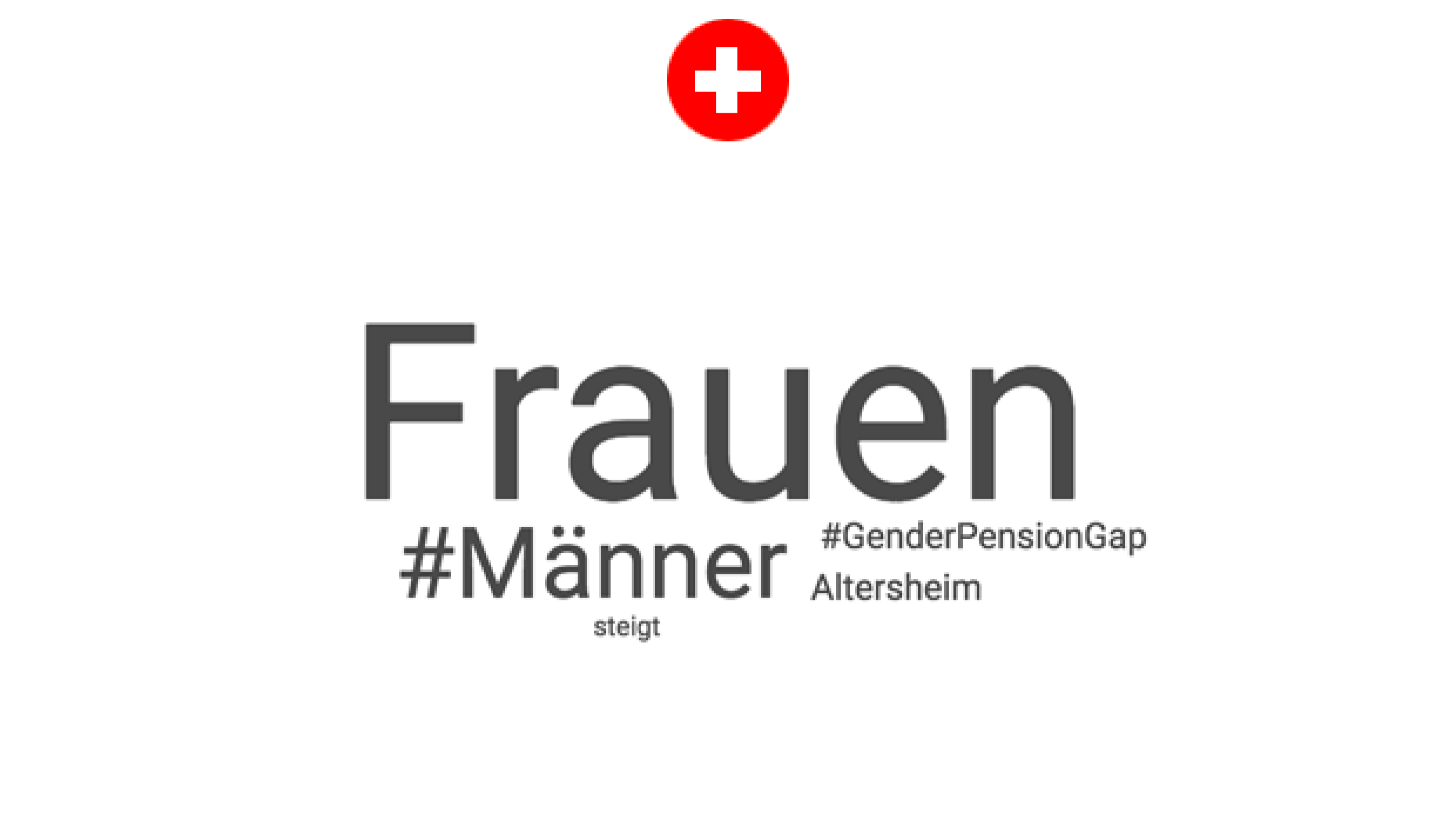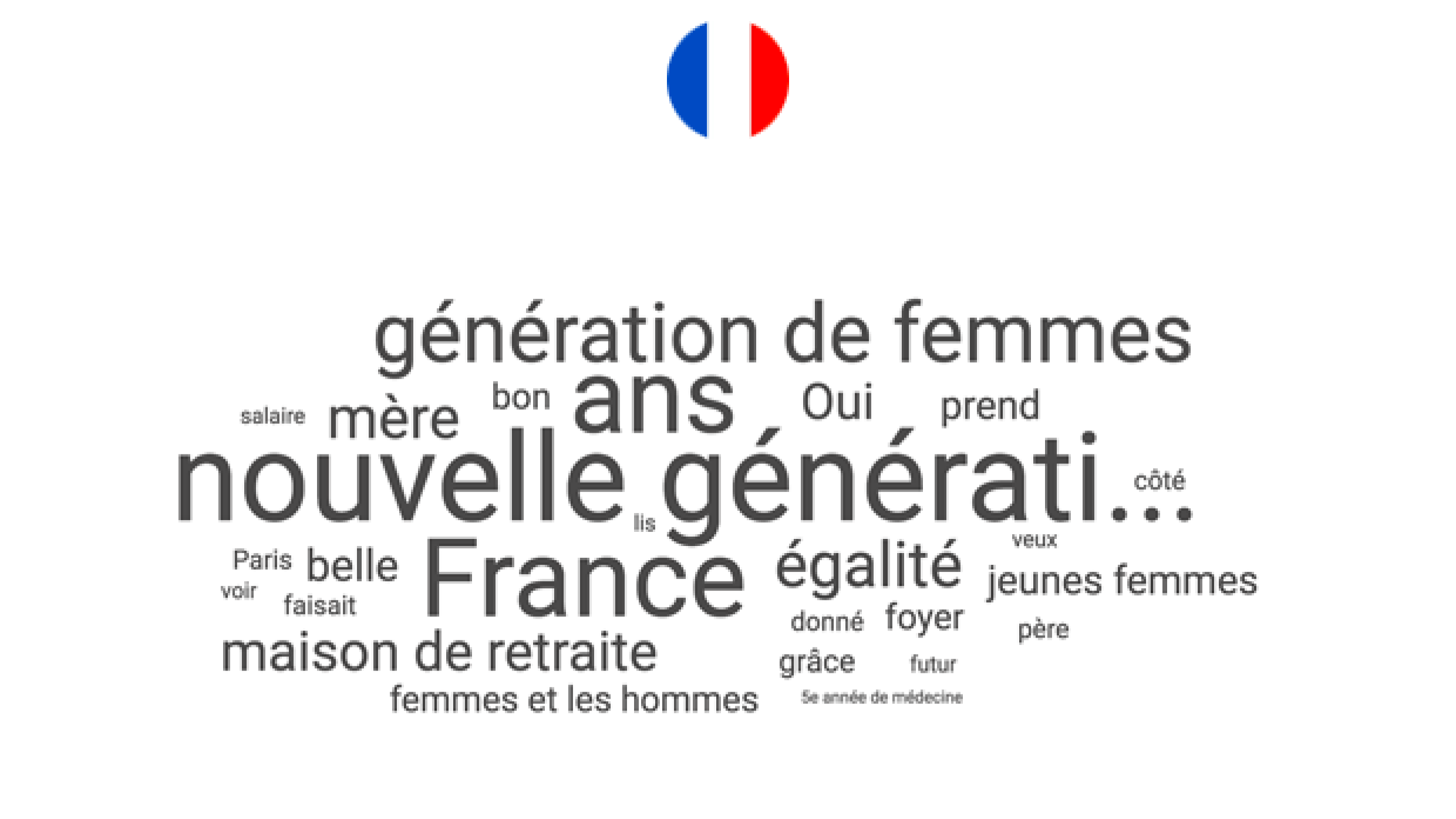 The Word Clouds show how women discuss the subject on Twitter in the three countries. There is evidence of some interesting differences between France and Germany. In Germany, where every tenth pensioner lives in poverty, retirement provisions for women are mainly talked about in relation to old-age poverty and the hashtag #Altersarmut (old-age poverty) is already well established.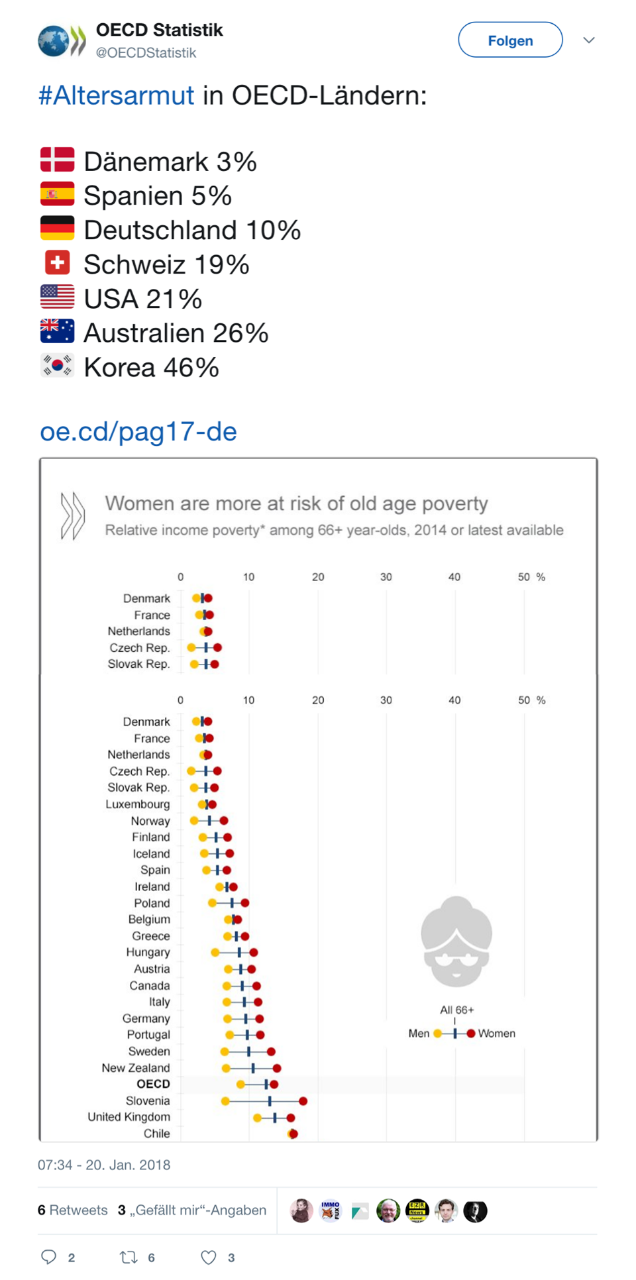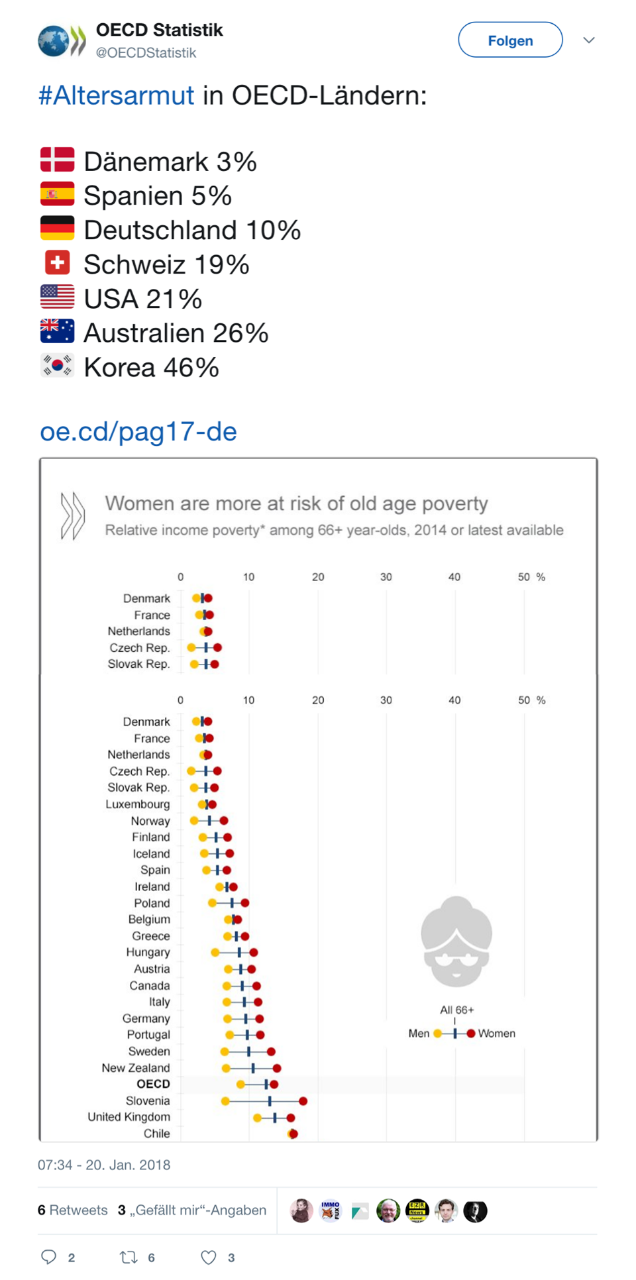 In France, on the other hand, many younger women also talk about retirement provisions and the topic is perceived more as a generational issue.

5. The media and politicians are top influencers on Twitter

(The most important voices by country - Source: Twitter)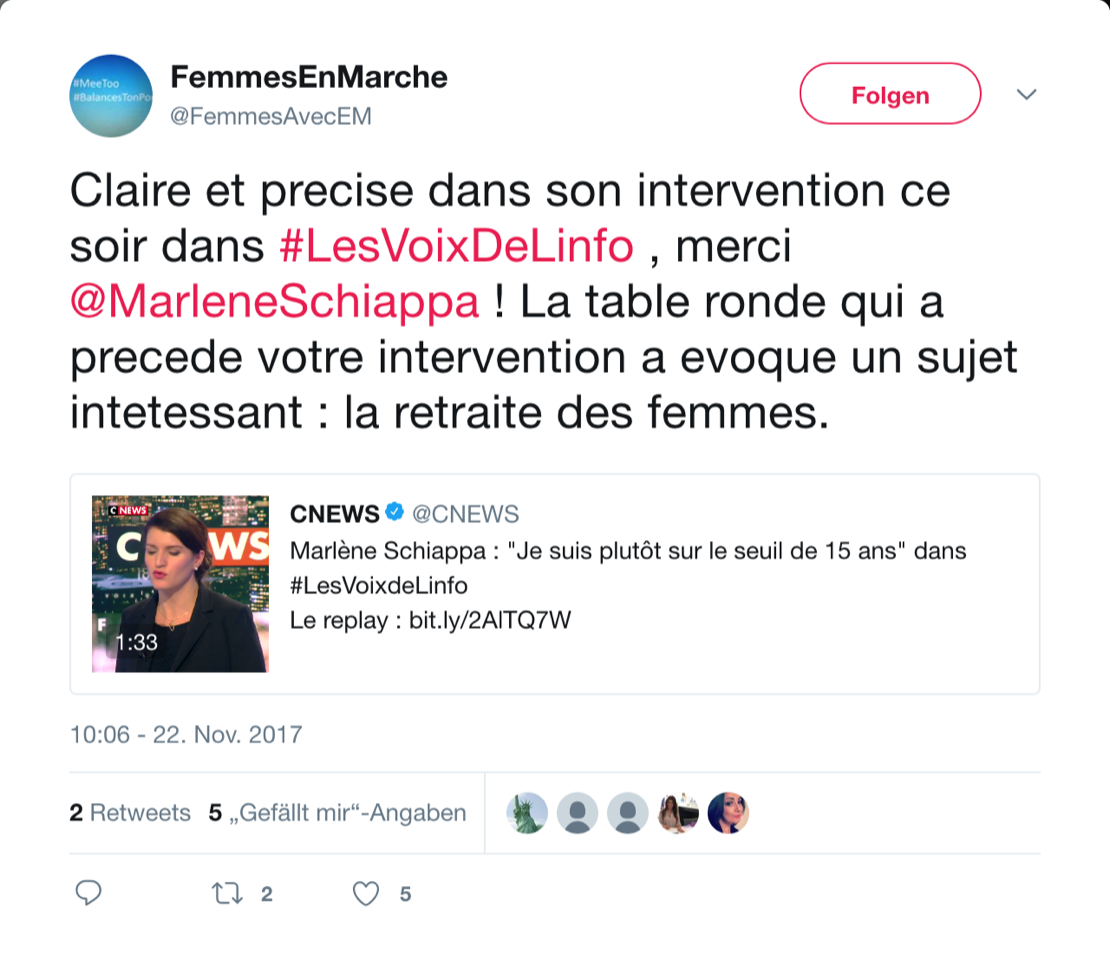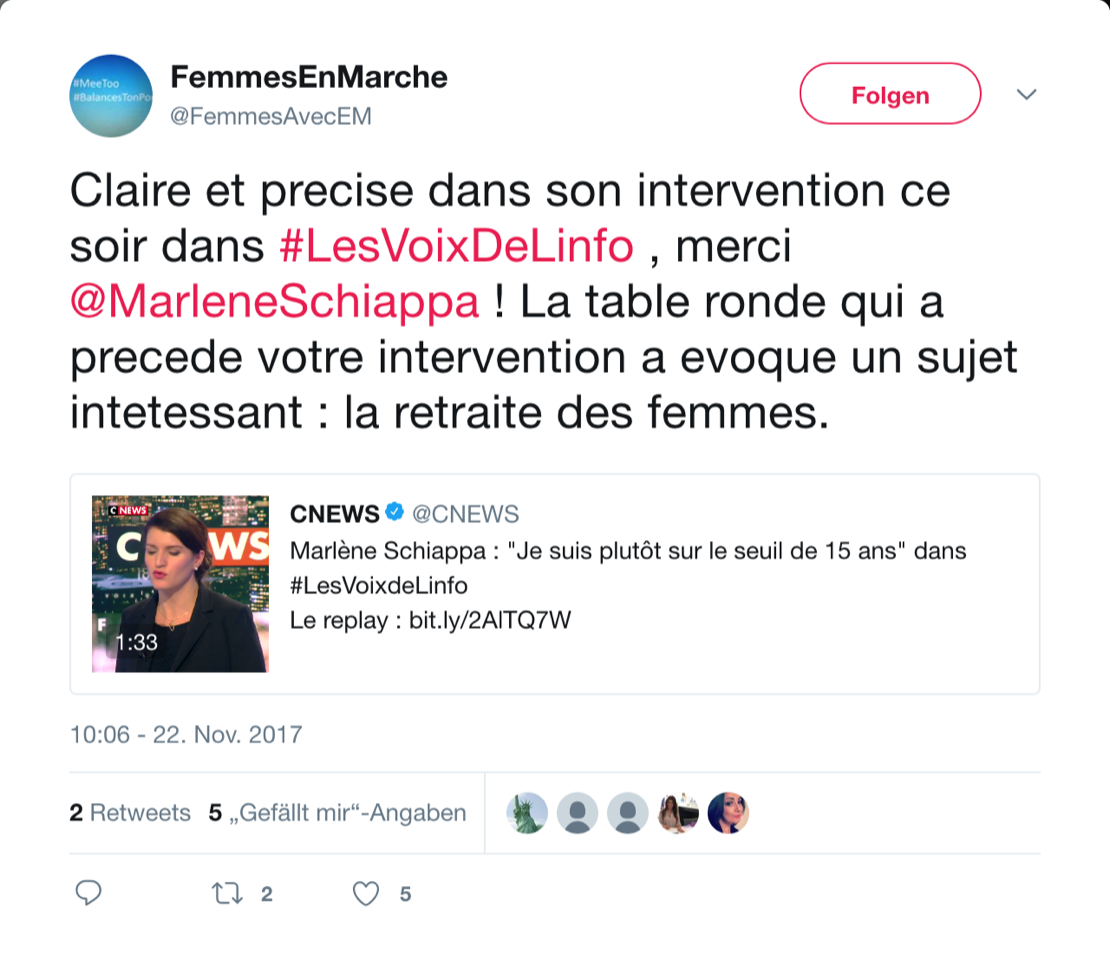 Translation of Tweet: @MarleneSchiappa for your clarity and precision this evening on #LesVoixDeLinfo! The podium discussion preceding your remarks addressed a topic of great relevance: retirement for women.
The analysis of the top-ten influencers on Twitter in Switzerland, Germany and France shows a highly similar picture in all three countries: the media and politics are the main influencers. It is mainly debated by the political institutions and politicians from the left of the political spectrum.

Zusammenfassend lässt sich sagen: Die Problematik der weiblichen Rente ist noch kein Topthema im politischen Diskurs. Auch in der Wissenschaft und Forschung scheint das Thema noch nicht wirklich besetzt zu sein. Mit dem Wirtschaftsprofessor Marcel Fratzscher von der Humboldt-Universität Berlin ist nur gerade ein akademischer Vertreter in den Topten vertreten. Und auch für die Wirtschaft hat die weibliche Altersvorsorge zumindest auf Social Media noch keine Priorität, findet sich doch bis jetzt noch kein Wirtschaftsverband oder Unternehmen unter den einflussreichsten Twitterern.
6. Salary inequality attracts more attention than pension inequality

(Coverage of gender pension gap and gender pay gap)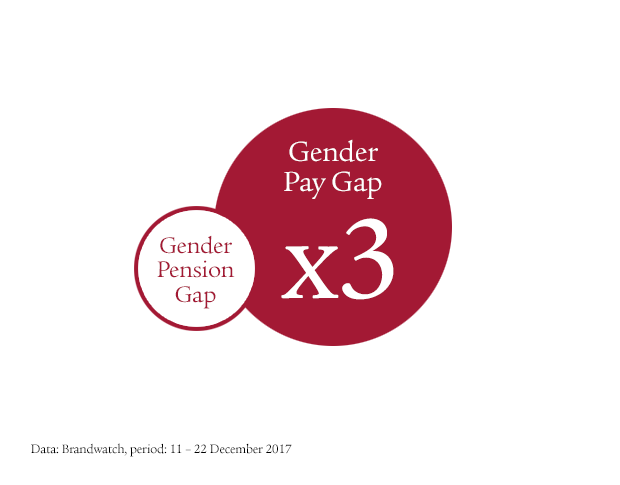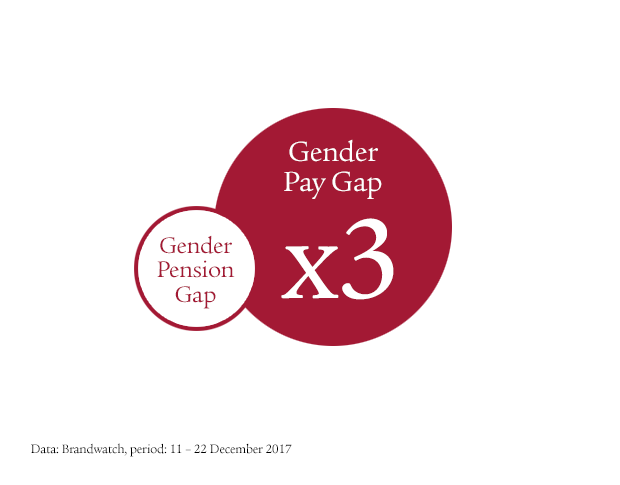 The gender pay gap is mentioned about three times as often as the gender pension gap according to a comparative analysis from 11-22 December 2017. This is reflected by the extent to which both issues are discussed in public and political debate. Salary inequality is discussed much more often and in greater depth, while the pension gap has only appeared recently on the agenda.
In conclusion, the debate about women and retirement provisions has also started in social media. It is talked about in Switzerland, Germany and France, albeit as a side issue on occasion. The major social significance of the gender pension gap, however, has yet to be adequately represented in the debate in all three countries.
Even the women themselves fail to show a particular interest in the pension provision problem. Social media is still waiting for the mobilisation of a movement to improve pensions for women. Hopefully this important subject will soon receive the attention it deserves in the digital world.