She made grey hair socially acceptable and proves that a baby boomer can also become a social media star. Parisian fashion icon and successful author Sophie Fontanel on elegance, gentleness and self-determined ageing.
Madame Fontanel, despite the Covid crisis, the Paris Fashion Week took place this autumn. How does the pandemic affect the fashion scene?
The fashion scene is worried, of course, because nobody knows exactly where we're going. But it is also very energetic. It was all very colourful and bright. For a short time, people said that fashion would not survive this period of staying at home and we would only wear leggings in the future, but I think the opposite is the case. This Fashion Week has confirmed what I have believed for a long time: that fashion helps us to master life.
Your relationship with fashion is a family affair. According to family tales, your grandmother fled Armenia with a page of Vogue in her sleeve. Later, when she lived in Paris, she imitated the patterns of the couture houses in her sewing. How did your grandmother shape your sense of fashion and style?
She was key. In France, she quickly realised that you can assert yourself through clothing and style and that fashion is a vehicle of integration. She wanted to become part of society without getting lost and negating her individuality and exoticism. She wanted to be seen without offending. And she often said: "Elegance is the most affordable luxury you can indulge in."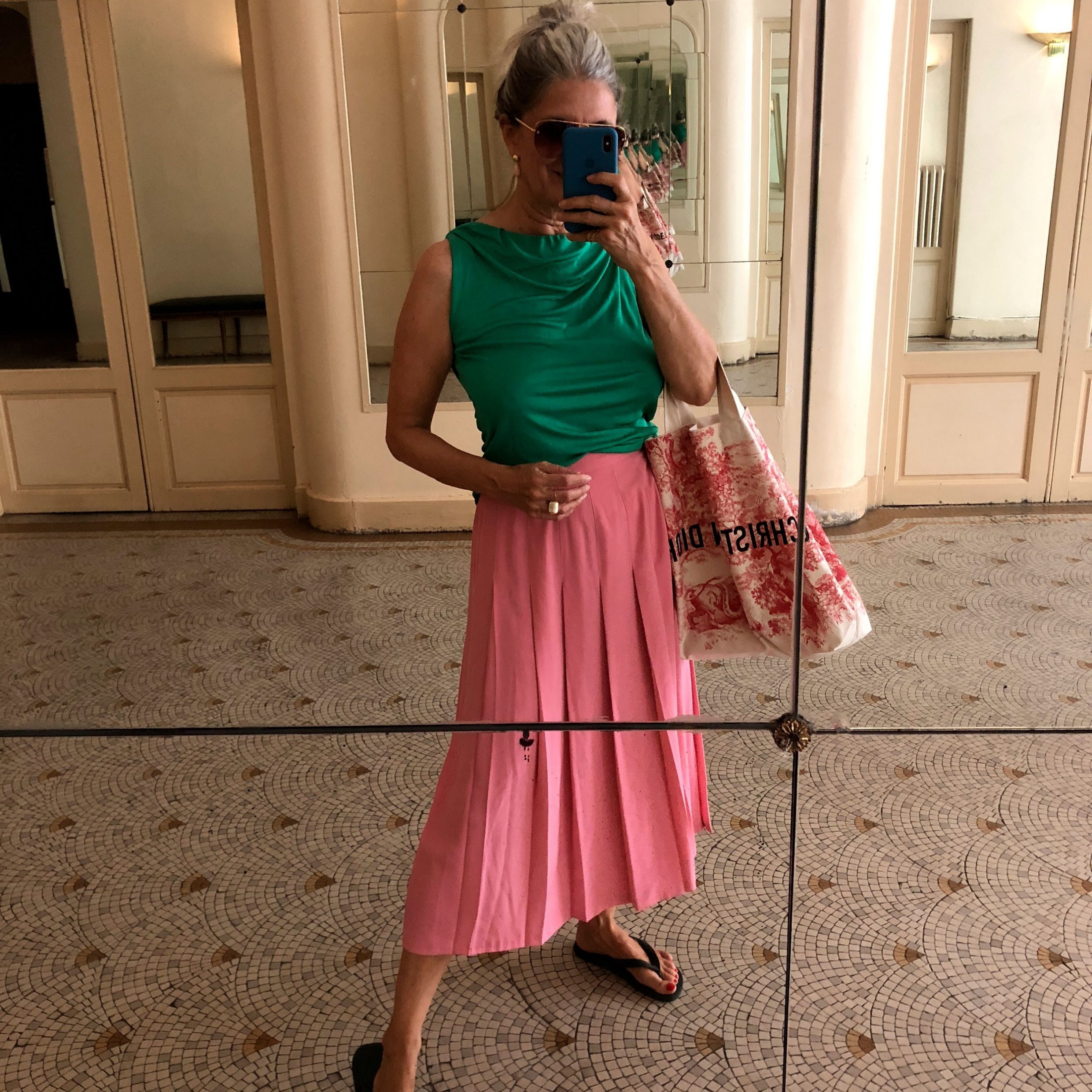 Going grey forces us to be true to ourselves and not cheat any more. That's good. That's self-determined.
However, in your TED talk, you recently expressed criticism that this elegance is increasingly disappearing. What makes you think that?
Don't get me wrong, I love fashion. I belong to this milieu, I love the freedom and the courage to try things out. But in recent years I have felt that the elegance, i.e. the search for a certain allure, for something individual, is becoming less and less important. That bothered me.
Is that why you left the women's and fashion magazine ELLE in 2015, where you worked as a columnist for 15 years and even as fashion director for one year?
No. At the time, ELLE was convinced that social networks were overrated and would be only a temporary phenomenon. They told me that I was too present on these networks, especially on Instagram, that I talked too much and even that I was too old to grasp the spirit of the times.
The irony of history is that you have flourished since this departure. Today you stage yourself humorously in the world of Parisian chic and are one of the most successful baby boomers on social media with over 200 000 Instagram followers. What appeals to you about this?
That's simple: I'm free now. Instagram was an enormous liberation for me, a new beginning. Thanks to social media, I no longer represent anyone, no medium, no brand, just myself. That changes everything. Especially with regard to my texts: ELLE read everything I wrote and often asked me to change things. Now I decide what is published and how.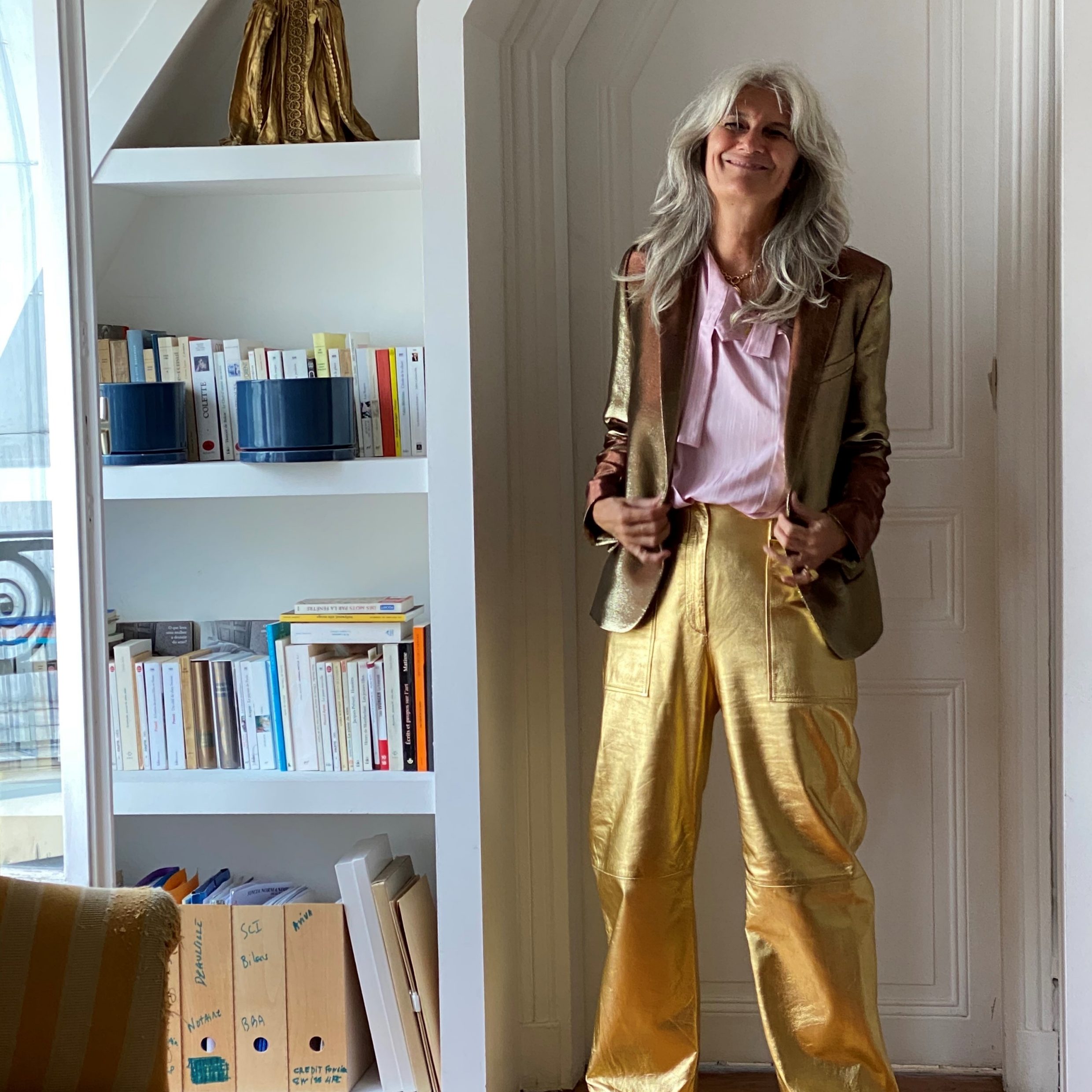 Thanks to social media, I no longer represent anyone, no medium, no brand, just myself.
Would you call yourself an influencer?
I don't like such terms, especially since my posts are not paid and because I buy most of my clothes at flea markets and in vintage stores. I don't follow trends and don't present the latest collections on my site. So in that sense I'm not an influencer. However, one might say that I have a certain influence.
You also used your influence to encourage women to embrace their grey hair. You decided not to colour your hair any more and documented the gradual greying on Instagram. This gave rise to the novel "Une apparition," which caused a sensation. How do you explain this success?
It surprised me. But don't underestimate the pressure on women that urges them to conceal their age. My friend, fashion designer Inès de La Fressange, for example, actually said it was a question of courtesy not to walk around with grey hair. She thought I was crazy and was worried that I would never find a man again. The idea that grey hair is not sexy is one of the most common objections. There are also only a few examples of the opposite: or do you know a sexy Hollywood heroine with grey hair?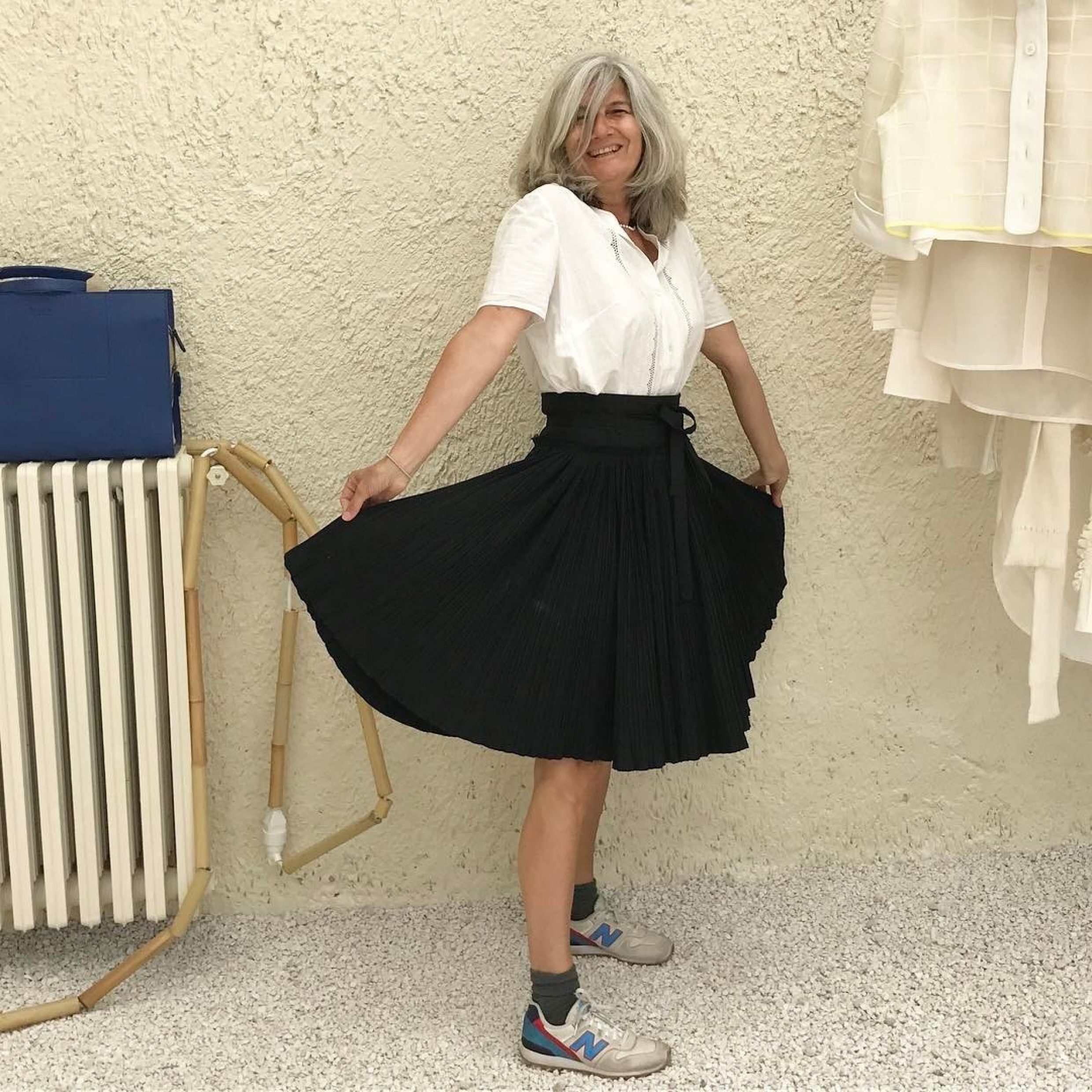 Gentleness is often smiled at and interpreted as cowardice, but the opposite is true: It's a great strength.
Critics and many women lauded your book as a feminist act, as a liberation from the dictates of adolescence.
First and foremost, it was an act of self-determination. And it showed me that beauty is much richer, much more complex than we think.
In what sense?
I noticed that this white and grey shine on my head, almost like snow. This is beautiful and attracts attention. It's the opposite of neglecting oneself. Apart from that, going grey also forces us to be true to ourselves, not to cheat any more. That's good. That's self-determined. I think age has its own special beauty. A great gentleness.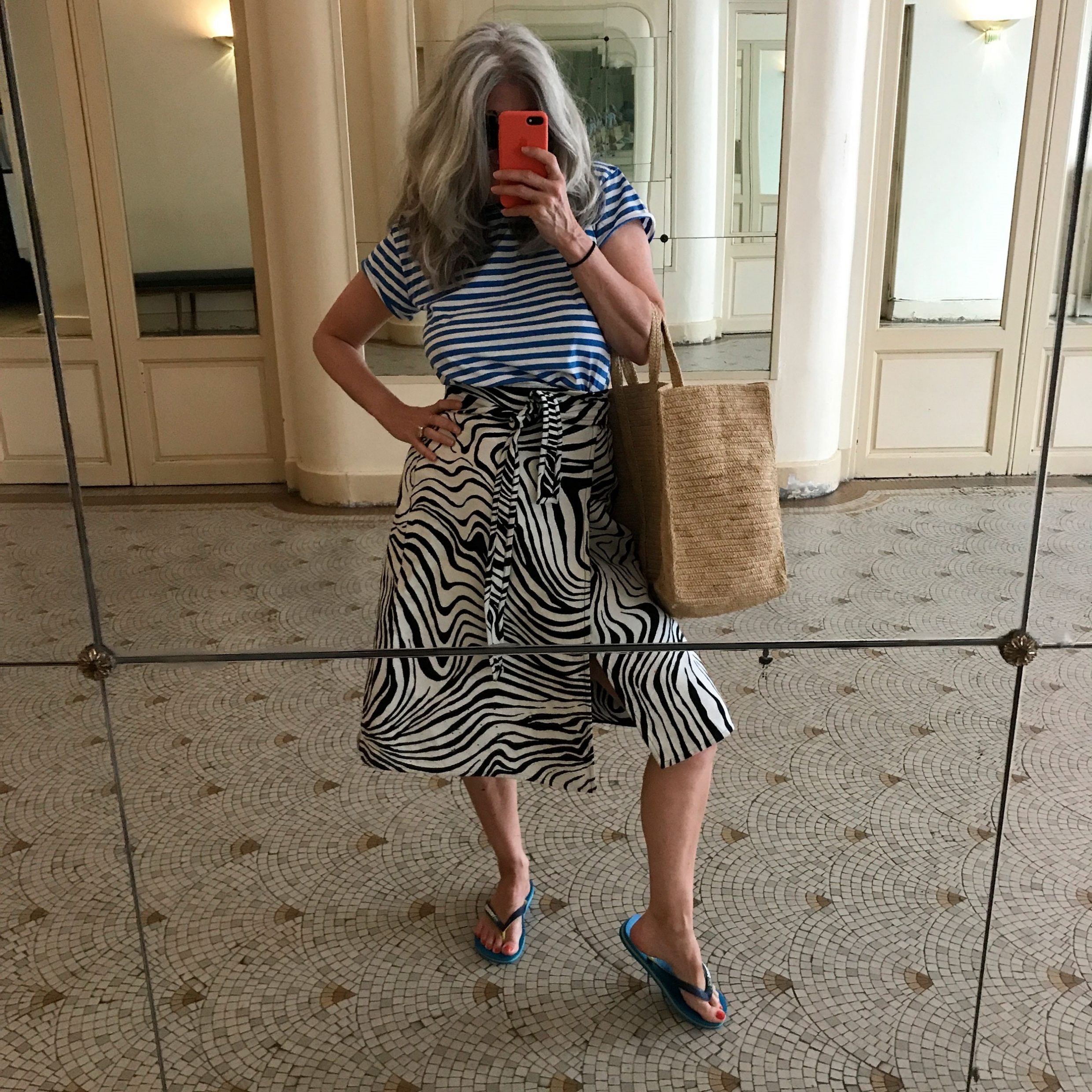 To talk about not having sex is incredibly subversive in this day and age.
Gentleness is something that sets you apart. For example, you published an ode to gentleness on your account. Is this where true strength lies today?
Yes, I think gentleness is often smiled at and interpreted as cowardice, but the opposite is true: It's a great strength. But in my case it's even easier: I can't help it. As a young girl, I had a sexual experience that hurt me very much and traumatized me.
You decided to forego sexual relations completely at one point. You also wrote a book about it and broke another taboo. In "The Art of Sleeping Alone," you tell us how you lived without sex for ten years. It was a scandal, even the New York Times reported on it.
Absolutely. To decide not to have sex any more, or rather to talk about not having sex any more, is incredibly subversive in this day and age. It has since been accepted that people don't all have the same sexuality, but they should definitely have some degree of sexuality. At some point it was all too much for me. I needed a break, I had to figure out what was good for me. You know, people are constantly being encouraged to engage in it: Do it! Do it! I don't think that's good. In this way, you don't respect a person's pace and you don't give them the time to develop a self-determined sexuality.

Photo credit: © François Bouchon 

Sophie Fontanel
Parisian fashion journalist, author and style icon Sophie Fontanel (58) became famous for her radical decision to no longer colour her hair. Her book "Une apparition" (engl. "an appearance") became a bestseller, she herself became a grey-haired role model. A former reporter and fashion director at Elle and moderator at the private TV channel Canal+, she now writes regularly for the magazine L'Obs. More than 200 000 Instagram followers also follow her "outfit of the day" mirror selfies every day. Her style: an eclectic mix of vintage items, men's clothing and designer pieces. She has published several books, including "The Art of Sleeping Alone" (Kailash) and "Une apparition. A declaration of love to my grey hair" (Ebersbach & Simon).