Their generation has the reputation of being apolitical and materialistic. This is entirely undeserved according to three Millennials from Germany, France and Switzerland. They are heavily involved in politics and society, both in their career and leisure time. Why do they play a role in society? What do they want to achieve? How do they mobilise their generation? You can find out through this interview series. First up is Kai Whittaker from Germany.
1. Why are you involved in politics? 
Politics governs our everyday life, whether we want it to or not. It starts in the morning when we turn on the light, for which we need electricity, and it goes far beyond the state of the road on which we travel to work. You don't have to be interested in politics, but you can't escape it. I prefer to contribute to decisions than have them made for me. That is what made me take up politics.
2. It is often said that your generation is more interested in financial security than political commitment. Is there any way to mobilise them?
It does seem that way sometimes. However, we have noticed that the Millennials have become more politicised than ever by certain events in recent years. People realise that their opinion, engagement and voice matter. Once people start to realise that it's their own future at stake, they start to be interested in politics and political parties.
3. What are the three main problems facing the young in your country?
It's become significantly harder for the young generation to accumulate assets. However, that is a key component of the advancement commitment of our country. I am also concerned about demographic change. We are underestimating the financial burden our generation will face. Finally, my generation finds it hard to pursue independent ventures and try out new ideas. I think they are too preoccupied by security. 

We are underestimating the financial burden our generation will face.
4. What are the three main opportunities? 
Digitalisation may enable us to shake up the economy and solve a lot of problems. I'd like us to be a part of that. It's also up to our generation whether we advance the European cause. Will we manage to cooperate on the key issues, such as security and foreign policy or economic policy? Third, we have to review the way we manage things and be more sparing with our resources. Digitalisation also offers massive potential in this area.
5. Are you providing for your retirement already?
Yes, for example I invest in an equity fund.
6. What do you think: will your generation be able to retire one day?
In the past, the grandchildren have always had it better than their grandparents. I don't see why that has to suddenly change so radically. Therefore I don't see why we wouldn't be able to live well on our pensions. We will also live longer than ever before and stay healthy for longer. It is therefore logical that we work for longer, depending on when people embark on their career.
7. What do you want to achieve over the next one to two years?
I would like us to finally bring in digital administration so we can become Europe's most citizen-friendly country. I also want to see the number of long-term unemployed fall markedly. One million people: I think that's too much when the German economy is booming.

Kai Whittaker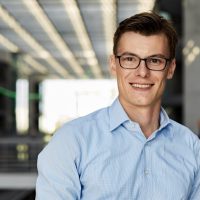 Member of the German Bundestag
Kai Whittaker is one of the youngest members of the Bundestag. He studied economics at Bristol and London. He was elected to the Bundestag in 2013 and is a full member of the Committee on Labour and Social Affairs. He lives in Baden-Baden.