Igor Levit, the young German-Russian is seen in many quarters as the pianist of the century. However, he doesn't limit his presence to playing the grand piano, he is also something of a virtuoso on the social media keyboard. The 30-year-old doesn't think about growing old. He knows how quickly plans for the future can change.
Igor Levit, it says on your website: "Igor Levit has learnt everything that there is to know about music." I imagine it must get quite boring to have learnt everything by the age of 30...
That doesn't come from me, I would never say something like that. In fact, that is a grotesque and entirely unrealistic view, not only of music but of life in general. Granted, it was nice to get a review like that but it doesn't reflect reality.
Your debut album of Beethoven's late piano sonatas reached number 46 in the German charts in 2013, where you usually find well-known pop stars like Helene Fischer or Udo Lindenberg. That creates a lot of pressure.
Yes, it can do but I've never had negative feelings about my work. There is pressure sure, but I don't take it in a negative way, it doesn't inhibit me. I love my job so much that the pressure can never overshadow the positive parts.
Being in the charts blurs the boundary between classical and pop music. Do you see that at your concerts – are there a lot of young people in the audience?
Yes, many young people come to see me play but I couldn't say exactly why that is. I always have a great audience and very often they are very young and curious people. At the same time, it's not only a young audience that has curiosity. It's the same for any crowd if you take them seriously. I always try to take my audience seriously.
Every crowd is curious if you take them seriously
You're known on Twitter as "Igor Levit. Pianist. Citizen. European". You like to share your thoughts on the state of the world. Many artists prefer to keep their distance Why are you different?
It's because I find being remote to be unbearably arrogant and false. If you can make music and maybe even become really successful, this success is also due to society and the peace we enjoy today. We live together in peace and harmony in Europe. That allows musicians to focus on their work. If a musician says that he doesn't care and is only interested in music, I find it hard to relate to that position. I would say to such people: you owe this society so much, don't act as if that doesn't matter. It's hard for me to take these people seriously.
Do you think about ageing as a 30-year-old? As a musician, you don't have a retirement age as such.  What does growing old mean to you?
To be honest I find it hard to answer that. I have learnt on many occasions that the best laid plans for the next ten years can fall apart in the next ten minutes.
Coming back to ageing and your first comment: how would you like to be remembered, what do you want to be written on your headstone?
You are asking some nice questions (laughs). That's an impossible question for me (thinks). He was a good person. That would be enough for me.

Interview: Ruth Hafen
Igor Levit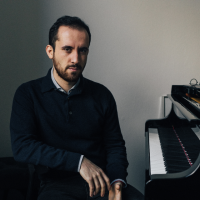 Pianist
Igor Levit was born in 1987 in Nizhny Novgorod, Russia and moved to Germany with his family in 1995. He graduated from Hanover University of Music, Drama and Media with the best results ever achieved at the university. As the youngest participant, he won the silver medal at the 2005 edition of the Arthur Rubinstein International Competition in Tel Aviv, the prize for best performer of chamber music, the audience favourite prize and the prize for the best performer of contemporary music. Levit has recorded six CDs with works by Bach, Beethoven and Rzewski.