Ottmar Hitzfeld has been retired for two years. How does a high performer cope with life after work? An interview with the two-time World Coach of the Year about ageing and starting a new stage in life.
What I wanted most was to live away from the limelight"
Ottmar Hitzfeld. Were you apprehensive about retiring?
Yes, I did feel some trepidation. I knew the time had come to bring the curtain down on my career in management, but I also wondered whether I might fall into a rut as I had seen some of my colleagues do. I was worried about becoming bored, unfulfilled or even falling into depression.  
And how was it?
With hindsight I now know I made the right decision. Finally all that pressure was off my shoulders. I was also lucky in that my life didn't suddenly go from 100 miles an hour to stasis, instead it's slowing down gently. I still have contracts with TV stations and advertising partners so I can ease into this new stage of my life.
Your retirement was a surprise. How did you know it was time to go?
I could see the signs. There's more to me than the purely logical character that the media liked to portray. Going to training, the internationals - it was all becoming a chore. Joy was turning into the pressure of having to win. I was familiar with these symptoms from my burnout and I knew it was time to go. You shouldn't ignore what your body is telling you.
You even turned down an EUR 25 million offer for an 18-month contract from a Chinese club.
I couldn't believe the amount of money involved. Of course I thought about it. A new culture, building up a team, a pioneering spirit, another adventure with a princely wage thrown in. I was also in the privileged position of being able to say no as I was fortunate enough not to need the money. I was proud within myself that I could say no with conviction. Then I knew I was at peace with myself and that even a big sum of money couldn't tempt me. I was also aware of the fact that my wife had moved 13 times and it wasn't always easy. I didn't want her to have to do that again.

I was lucky in that my life didn't suddenly go from 100 miles an hour to stasis, instead it's slowing down gently.
What do you gain as a pensioner?
I have found the past two years extremely enriching because of the freedom. Never before have I had such self-determination in my life. I can't always do what I want but I no longer have to do what I don't want. I can also spend a lot more time with my wife. That adds a new dimension for our family and for building friendships.
Are you deliberately training for a long life?
Yes. I use the home gym once or twice a week and I play golf. I also regularly play Memory with my wife. It's fun and it shows you can improve your memory even when you're old.
Where do you channel your ambition these days?
I don't need ambition anymore and I now make a point of not being ambitious. I've even scaled back my golf handicap from 16 to 21 because it's easier for me to play off a 21. I used to be so driven and I don't just mean on the pitch. I always used to team up with my father and play Jass (a card game) against my siblings. And it really annoyed me when he made a mistake, even when he was 80. I'm so ashamed about that now.
Don't you miss the limelight sometimes?
Not at all, quite the opposite in fact: I feel relieved now. Banquets, appearances, media appointments - that was never really me but it was part of the job. Sometimes I think what I wanted most was to live away from the limelight.
You are part of the baby boomer generation fortunate enough to have a secure pension. Are you conscious of that?
Of course, we often talk at home about how we, unlike our parents, grew up without war, hunger and social hardship. We were able to enjoy prosperity. We also think about our son's generation and how he will have to work for another 30 years, then there's our grandson's generation. Who knows what will happen there.
Is the pension system in need of reform? Do we need more solidarity between old and young people?
I think so. It's good that we are having this debate in society because it has made us aware. Maybe it's time to think about how the prosperous older citizens can contribute more and acknowledge their social responsibility. I know not everyone sees it that way but I am sure we will find some good solutions. We don't want demonstrations and upheaval coming from an insecure and unhappy youth.

I believe everyone should be able to make up their own mind about when to go. Choosing when to go is also self-determination.
Regarding retirement: some footballers find it hard to cope with life after football and many encounter financial problems.
It's hard when your career is over. One day you have a thousand friends and the next nobody knows you. Then the money goes too. It's tragic, I know some people who ended up like that and I have tried more than once to help them by offering advice and assistance.
When did you first think about providing for your retirement?
When I was 19 and signed my first contract with FV Lörrach for a few German Marks, the first thing I did was to take out a savings contract. When I moved to FC Basel a year later, I took out life insurance even though I was only earning 200 francs. I always knew I wanted to have a good standard of living in my old age. It was in my DNA.
Did you encourage your players to do the same?
I certainly did, investment and retirement provisions often came up during one-on-one conversations. When you earn a lot of money, you can also lose a lot and footballers often receive unreliable offers.
Are you talking from experience?
Yes, I'm afraid so. When I was with Stuttgart, I invested 100 000 Marks in a printing plant, which went bankrupt. A so-called friend cheated me and it was tough because I was earning just under 150 000 Marks at the time. I learnt my lesson and never invested in another company. I used to tell the players about that episode and encouraged them to take out life insurance.
The author Philip Roth wrote: "Being old isn't a struggle, it's a massacre." Is he right?
Not at all, at least that's not my experience of it. I know everything starts to go the older you get, I saw that with my parents. You can delay all the ailments, but they'll come eventually. I'll just deal with them when they come. The key is to live as full a life as you can and enjoy the present.
Is old age something to strive for?
"Everyone wants to grow old without being old" as they say. Whether it's worth living to 95 or 100, I couldn't really say. It all depends on your attitude and physical condition.  One thing I do know is that I don't want to be kept alive artificially. That's why I signed a patient decree. I also think about Exit. I believe everyone should be able to make up their own mind about when to go. You shouldn't judge people for doing that. Choosing when to go is also self-determination.

Ottmar Hitzfeld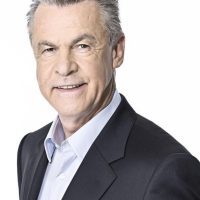 Trainer and football player
Ottmar Hitzfeld (68), brought the curtain down on his successful career in football management in 2014. He grew up in Lörrach in southern Germany, played as a striker for a number of clubs in Switzerland and Germany and won two Championships and one Cup with FC Basel. In 1983, he cut his managerial teeth at SC Zug. He went on to win over two dozen titles in Switzerland and Germany, including the Champions League with Borussia Dortmund and Bayern Munich, which twice earned him the title "World Coach of the Year". This success came at a price: in 2004, he suffered burnout and had to retire to his holiday home in Engelberg for 18 months. His last managerial position took him back to Switzerland in 2008, when he guided the national side to two World Cup finals. He retired from football following defeat to Argentina in a last-16 World Cup game in 2014. He now works as a TV expert and is involved with various social foundations and projects. He married Beatrix in 1975 and lives in his hometown of Lörrach. They have one son and their grandson was born in 2015.