The Swiss lawyer Carla del Ponte has spent almost a lifetime fighting for human rights. Most recently, she investigated the Syrian conflict – in vain as she says. In this interview, she explains what impacted her most and what self-determination means for people in a war situation.
Carla del Ponte, you have spent decades as an advocate of human rights. How important is self-determination to people in war zones?
It's very hard to lead a normal life in a war zone, particularly as people suffer human rights abuses. Nevertheless people do try to exercise self-determination in their lives. Many people in Syria have fled, for example. That is also a type of self-determination - albeit enforced, as these people have to flee for their lives.
You hold the UN to account in your recent book. Why is that?
I spent over five years on the Commission of Inquiry on Syria. Our task was difficult because we could only investigate serious breaches of human rights but not the parties responsible for them. We wanted the UN Security Council to take decisions so we could bring cases to an international tribunal. That would have given justice to the victims. But nothing happened. So I resigned from the Commission in protest. Today there is still full freedom from prosecution in Syria. No-one is seeking justice for these crimes.

You were Chief Prosecutor in the Yugoslavia and Rwanda tribunals. What's different about Syria?
The main difference is that there was a tribunal for Yugoslavia and Rwanda. So we were able to seek justice for the victims. In Syria, on the other hand, there is nothing. We see crimes being committed on all sides almost every day, but there is no tribunal.
What impacted you most about the Syria conflict?
The thousands of dead children. There are children of 12 or younger being forced to join in the conflict and being killed as a result. Many children have also died from their villages being bombarded or while escaping the conflict. And that is dreadful.
You've left Syria now and are back in Switzerland. What are your plans for the future? Carla del Ponte and a quiet retirement don't seem to go together somehow.
I left the Syria commission a year ago and I wrote this book to come to terms with my frustration. I hope people read it as it is entirely truthful. And it's been a long time since any complete truth has come from the Syria conflict. Now could also be a good time to lead a quieter life. I'm a grandmother and I could do more on that front. You need a lot of energy for small children and I'm not short on that.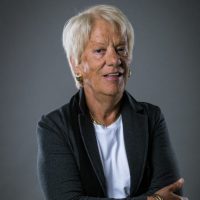 Carla del Ponte
Swiss lawyer and diplomat
Carla del Ponte is a Swiss lawyer and diplomat. She rose to prominence as a Swiss attorney general when she was appointed Chief Prosecutor at the International Criminal Court in the Hague, which brought her to international attention. She investigated war crimes in the former Yugoslavia and Rwanda between 1999 and 2007. Carla del Ponte was a member of a UNHCHR Commission from 2011 to 2017 when she investigated human rights abuses in the Syrian civil war.