This summer, he will be playing in his third World Cup for Switzerland. Football player Gelson Fernandes has played in six countries and speaks seven languages, but he is still firmly grounded. A conversation about social advancement and self-determination in the football business.
"Gelson Fernandes, the son of immigrants, who immigrated to Europe without documentation in search of a better life." That's how you signed a Facebook post during the refugee crisis. Thanks to football you found a better life. What did it take for you to be a success?
The key question is: am I prepared to work hard to achieve my dream? A lot of talented athletes go to bed late, eat unhealthily and nod in agreement without really listening when their trainer tells them something. You have to do everything you can to take advantage of the opportunities that present themselves.

When did you realise this?
When I was 15 or 16, I was in a Bern hospital with a meniscus injury. I decided it was time to give it my all and become a pro. You have to believe in yourself. And you have to be realistic. I knew I didn't have the qualities that someone like Messi had displayed for years. But I felt that I had enough in me to be a midfield player.

The path to the top is rocky. Unlike other players who get carried away by success, you're still well grounded.
The problem is that nowadays talented players sign lucrative contracts at a very young age. They're still pretty much children and they suddenly become rich overnight. They buy fancy cars, go on expensive holidays and become popular with women. So it's understandable when some of them let things go to their heads.

How can this be prevented?
I don't think there's a structured way to do that. The clubs have to play along with this game, otherwise they'll lose out on players. So it's up to us players. We have to maintain focus. Surround ourselves with the right people. Remain humble. My roots helped me to keep my feet on the ground.

How did you grow up?
For the first five years of my life, I lived with my grandmother in Cape Verde. We had no water or electricity. Our football pitch was a concrete field with a goal painted on the wall. Then I went to live with my parents in Switzerland. Initially, my father tended the cows at a military barracks. Then he laid floors, worked as a locksmith and finally wound up as a grounds-keeper for FC Sion. And my mother woke up early every morning to clean houses. I learned that people are important, not their account balance.

Is that why you allowed your long-term friends to believe for months you were a student?
Yes. I wanted them to like me for who I am as a person, not as a football player.

Every need football stars have is anticipated and their lives are highly structured. Is it at all possible for them to lead a self-determined life?
I think so. But you have to be able to set boundaries, listen to yourself and always ask: What is truly best for me? Especially when it comes to changing clubs. For example, last year I chose to play for Eintracht Frankfurt, even though I had received more lucrative offers from Saudi Arabia and China. In some cases, self-determination also means turning down money.

To what extent can a successful career be planned?
If we're being honest, career planning is purely theoretical. There are simply too many things that cannot be controlled. A year after I transferred from Sion to Manchester City, a sheik bought the club and invested millions in new players. That was the end of my time there. I went to France to play for St. Etienne, but a few months later the trainer was let go and his successor wasn't interested in keeping me. You're very alone in such moments. Those who aren't discouraged can do it. Success is more a question of will and luck than planning.

As a football player, you have 10 to 15 years, in the best case scenario, to earn good money. Are you aware of that?
I always knew I had to set some money aside to avoid financial problems later in life.

When did you first start thinking about retirement savings?
Early on. When I went to England at age 21, I started saving and investing. I always took care of this myself because I wanted to know exactly where my money was going. It's important to be smart and set aside money for life after football. That's what I tell young players too. Do they listen to me? I have no idea.

You are a prototypical polyglot. You've played in six countries and you were the first player to score at least one goal in the top leagues of England, Germany, France and Italy. It is also impressive that you learned the language wherever you played. Why did you do that?
Because I want to take part in life. I want to understand the people, my teammates, the fans, the people in the city. Integration is very important to me. And you can't integrate without learning the language.

Germany's "Frankfurter Rundschau" newspaper once called you the "minder", i.e. the person who takes care of things for the team.  For example, before the 2014 World Cup you wrote a handwritten letter to all the members of the national team. Why did you do that?
Because I had a sense that the mood of the team was good, but that sometimes things were a bit too laid-back. I felt I had to do something. I wanted to shake the team up and motivate them. Perhaps I should have looked out for myself a bit more in my career, but that's just how I am. And I'm proud of it.

Another record you hold is the European tackling record. In 2015, you made 125 tackles and the Italian newspaper "Gazzetta dello Sport" gave you the nickname "Iron Foot". Are you ever afraid you're going to hurt an opponent?
No. My job is to make my opponent's life as difficult as possible. But I'm always careful when I make a tackle and I only go after the ball. Trainers have tried to stop me doing it, but no one has managed to.

You're playing in your third World Cup. What sets your current team apart?
We have more talent across the board and our attack is better. We have young, hungry players with a lot of potential. If we all play to our potential, then we can do well at the World Cup. 

Swiss Life has been the Swiss Football Association's employee benefits partner since 2004.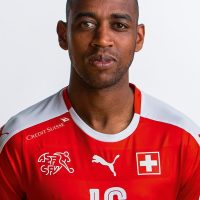 Gelson Fernandes
Gelson Fernandes, 31, is from the Cape Verde Islands and grew up in Switzerland. He is under contract with Eintracht Frankfurt and has played football in six countries over the course of his career. He has played in Switzerland (FC Sion), England (Manchester City, Leicester), Italy (Chievo Verona, Udinese), Portugal (Sporting Lissabon), France (St. Etienne, Stade Rennes) and Germany (SC Freiburg). Fernandes has been on the Swiss national team since 2007 and scored the winning goal against world champions Spain in the 2010 World Cup. He speaks seven languages fluently (Creole, French, Portuguese, German, Italian, Spanish and English) and has one daughter.