Online platforms for women celebrating life at 50+ like VivaFifty.com are growing. Founder and CEO Lorraine C. Ladish about her motivation to launch the community, cultural differences in the way women think and act as well as how women of the baby boomer generation are reinventing age.
How did you come up with the idea to start Viva Fifty?
During the 2008/09 recession in the U.S. I lost everything. My marriage, source of income, savings. I ended up on welfare at 45, with my two young kids and needed to start from scratch again. I reinvented my writing career and successfully took it online. My personal life also flourished. At 50 I had made the biggest comeback of my career and I was getting married to the love of my life, also a writer, to build a blended family. I was a freelance editor-in-chief of a digital publication for Latina moms. I decided that 50 was the time to go back to building my own dream. That´s how I came up with VivaFifty.com.

What's your primary mission?
I do this because it makes me sad to see women wasting time and energy fretting about age. It started out as a platform to empower and inspire women aged 50+ in English and in Spanish, because I'm Spanish-American. Then I realised younger women also follow me on other platforms such as Instagram, because I post my yoga photos in my fifties. They tell me, I have helped them not fear turning 40 or 50 and that makes me very happy. So now I have the mission of empowering and inspiring women of 35+ which is the age at which women are considered to have geriatric pregnancies. I had two of those and they went fine.

Your community has grown fast. Why?
I have a close-knit team of writers, social media managers and a business manager. I think the only secret is that we're consistent in sharing content that women can relate to. Our content is different in English and in Spanish, because women of each culture and language are seeking different things. In Spanish women are still seeking the validation that they can still make something of their lives after 40! In English they are more interested in personal essays, reading about other women's experience with life's changes.

You feature weekly articles and posts on subjects like health, relationship or financial planning. What topics are women most interested in?
Our most popular content in Spanish revolves around relationships, staying in shape, dealing with hormonal changes and such. In English, it's more around fitness, health and travel. Money matters and career are popular in both.

What do women dream and worry about?
In relationships they want to know when it's time to call it quits when they've had a long marriage that is dead. They also want to know how to find love again. Being an entrepreneur in midlife is a more and more popular choice. In money matters, saving for retirement is always a big concern, but so is sending the kids off to college.

You write: "Fifty is not the new thirty. Fifty is the new fifty". Why is this so important to you?
If fifty were the new thirty, I'd have another baby. My life insurance policy wouldn't be as expensive. I wouldn't need a colonoscopy. I wouldn't be going through the menopause. Age is more than a number, and yet I strongly believe in not allowing that number to limit what we can and can't do, within reason.

Is your generation reinventing age?
Possibly, because we know we have a longer lifespan. I mean, my Spanish grandmother is 101! My father, almost 80, is her primary caregiver. I'm nearly 55 and I'm not an empty-nester. I have three teens: 17, 15 and 14. I work the same or more than when I was younger, I stay fit and make plans for the future that have nothing to do with retiring. And I'm not alone in this. It's not about living longer, which is nice, but making the most of the years we have.

How important is a self-determined life for women over 50?
If self-determination means being self-sufficient, it is everything. Women don't enjoy completely depending on a man for money anymore, not even older women. So they are seeking ways to supplement their income or start a career in midlife, if they stayed home to raise their children.

How well are they prepared for retirement?
If they love what they are doing, I don't think anyone is mentally prepared to retire. Financially, it's a different story. Women nowadays could reach midlife and find that their life as they knew it has crumbled (like mine did) and so they have to start over. It's not a fun prospect.

What would you say is the biggest challenge for women over 50?
Possibly dealing with ageism. It's an issue and a challenge. It's very much alive. My 17-year old can get a part-time job faster than any 50+ person seeking the same occupation. I see it happen every day.

Is ageism a bigger problem for women than men?
I do think it's worse for women. And I'm not saying it in a bitter way, it's a fact, something that's always been that way. A man with grey hair is a silver fox, a woman with grey hair is a granny. Of course I don't think that's true, but it's a prevalent stereotype.  

Do you see any cultural differences in the way women get older
It's very different. Americans aren't even homogeneous in the U.S. An older woman living in San Francisco sees aging in a different light to an older woman living in California or Florida, where there are plastic surgeons on every corner. European women have – I think – embraced older age more: there is a greater tendency for multi-generational households, something rare in the United States. And if we look at South America, because women have children at a very young age, they tend to feel older sooner in life.

What is the most surprising thing you've learned about elderly women?
That feeling old has nothing to do with age. There are people in their 20s who feel old and 80-year-olds that feel youthful. Older women care less and less what others think of them, yet they also struggle with feeling invisible to society. I feel we really need to make our voices heard, but also not at the expense of youth. I don't like it when older people blame all their issues on youth. It's just the way it is. I would ask them to think back to when they were young. There is room for everyone, young and old. 

Online community for women celebrating life at 50+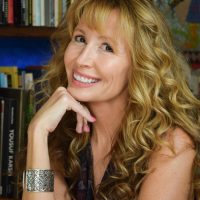 Lorraine C. Ladish
Founder and CEO of Viva Fifty Media
Viva Fifty is one of the successful online communities for women celebrating life at 50+ that have emerged in the last few years. It is a bilingual and multicultural platform that embraces the joy that midlife can entail. A team of bloggers and authors feature weekly articles and posts on subjects like health, relationship or financial planning and have online conversations on social media. The readers are mainly women aged 30-60, living in the U.S. and Puerto Rico. The founder and CEO of Viva Fifty Media is Lorraine C. Ladish (54). She is a Spanish-American editor and book author and lives with her family in Sarasota, Florida.